What to Know
A coastal storm is working its way up the coast. Snow showers are hitting Tuesday. 
Winds could gust on Tuesday at up to 40 to 50 mph.
With temps above freezing in Philadelphia and surrounding communities, any snow that falls isn't sticking. However, snow was falling in the Pocono Mountains.
You will see scattered snow showers blowing through the region Tuesday as a coastal storm moves through, but with temperatures above freezing, the snowflakes are melting as they fall. But the gusty winds appear to offer the biggest impact from this storm.
The storm moved up the coast and brought mostly chilly rain to the Philadelphia region Monday. A chance of snow showers continues through Tuesday afternoon. Snow even spread down to Philadelphia and surrounding communities Thursday morning.
Strong winds -- gusting to 40 to 50 mph -- are also expected to kick up Tuesday. By evening we will be dry, but the wind is expected to continue through Wednesday.
How Much Snow Could Fall?
Shovelable snow is missing the Philadelphia area to the north. However, the Poconos Mountains are getting some much-appreciated snow Tuesday.
Early reports have half a foot on the ground in the highest elevations of the Poconos.
This same storm has brought more than 2 feet of snow into western Massachusetts, with more on the way.
Strong Winds Kick Up
The area was hit by gusty winds between 40 and 50 mph as well as heavy rain on Monday. Those strong winds will last into early Wednesday.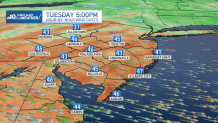 A wind advisory was issued and some scattered power outages couldn't be ruled out.
Conditions will improve toward the end of the week with temperatures reaching the low 60s on St. Patrick's Day on Friday. Must be the luck of the Irish.
Keep ahead of any wintry weather by downloading the NBC10 app for the latest First Alert Weather forecasts and live radar.