Takeaways
The parade of wintry weather that has been leaving plenty of snow on the Philadelphia region turned to an ice threat over the holiday weekend.
Even small amounts of freezing rain can cause dangerous travel and cause other treacherous problems.
Keep checking back with the NBC10 First Alert Weather Team on air, in our app and anywhere else you get our content for more details.
A layer of ice coated roads, sidewalks and cars in parts of our region early Sunday, ahead of a messy week that could bring two more storms with wintry mix and rain.
First Alert: The First Alert Weather Team is issuing a First Alert for the potential of dangerous travel due to icy conditions through 10 a.m. Sunday.
Though the worst of the storm happened the day prior, icy spots still lingered on roads and sidewalks. Conditions were not expected to improve until mid-morning. Temperatures, however, were not expected to go above the freezing mark until the afternoon.
After 7 p.m. Saturday, the National Weather Service reported freezing rain totals around .2 inches at Atlantic City International Airport, .16 inches in Millville, and a little over a tenth of an inch at Delaware Coastal Airport in Sussex County.
The ice coated some Jersey roads including the Garden State Parkway, where a viewer provided this photo of a major pileup crash on the slick highway surface near Bass River: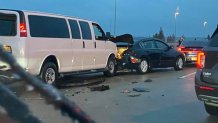 New Jersey State Police said the crash occurred before 5:40 p.m. involving 14 vehicles. Luckily, no one was seriously injured, but the crash closed southbound lanes on the road for about 3 hours.
Here's how it looked elsewhere in South Jersey.
About 0.02 inches of freezing rain fell at Philadelphia International Airport as of 7 p.m., the NWS says. Regardless, ice has made some front steps in the city a hazard.
NBC10 meteorologist Glenn "Hurricane" Schwartz addresses the dangerous impacts ice can have in this article.
Conditions started getting dicey Saturday morning in Delaware, and by the early evening in the Lehigh Valley. In some spots, roads and parked cars were coated in a visible layer of ice, like this car parked in Christiana, Delaware.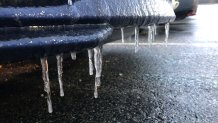 The Pennsylvania Department of Transportation and the Pennsylvania Turnpike Commission issued vehicle restrictions on interstates 76, 95, 295 in others starting noon Saturday but lifted those around 9:30 a.m. Sunday.
More Winter Threats Next Week
As this parade of wintry weather continues its march through our region, next week could be messy. The first of the potential storms we are tracking comes on Monday.
We are still tracking these storms and things may change, but it looks like they will bring wintry mix and rain.
Stay Ahead of Whatever These Winter Storms Have for Us
Download the NBC10 app right now and continue to tune into NBC10 News on air, on Roku and on Apple TV as the First Alert Weather Team brings you the latest weather forecast.