What to Know
Storms packing a mix of heavy rains and winds knocked out power to thousands of homes across the Philadelphia region Christmas morning.
Before daybreak Friday, about 85,000 power outages were reported across Pennsylvania, New Jersey and Delaware. PECO reported the most outages in the Pennsylvania suburbs. Most of those outages were restored by the evening.
With the rain gone, temperatures plummeted and started to feel below freezing.
Tens of thousands of people were without power Christmas morning, after a gut-punch of a storm packing strong winds and heavy rain walloped the region.
By 10:30 p.m., fewer than 9,000 residents in our region remained without electricity as crews worked on the Christmas holiday to get lights back on.
The outages came after tree limbs downed power lines. The region saw heavy wind gusts and many spots in the Philly suburbs received more than three inches of rain. Rain totals were less along the coast, but those areas dealt with stronger wind gusts.
PECO reported the bulk of Christmas power outages locally, with more than 56,000 as of 6 a.m. That number was below 7,000 by 10:30 p.m. The majority of those outages were in Chester, Delaware and Montgomery counties. PPL Electric and MetEd had low outage totals in our area later Christmas Day.
In Delaware, Delmarva fewer than 400 customers still in need of electricity.
In New Jersey, about 100 PSE&G customers in our area were still without power, and the company had restored power to more than 85,000 people in the Garden State. (That includes many central and North Jersey customers.) Atlantic City Electric had about 1,800 customers in the dark late Friday night.
Some may be without power for a second night as a cold blast of air settled in for Christmas.
On Thursday, a PSE&G spokesman told us the company understands its customers will be extra eager to get their power back on as many celebrate Christmas with their families.
"We appreciate that this is not a good time of the year to be without power," Tony Garrihy said. "Our folks will be on duty, ready to address this situation."
Utility crews are coming in from other states and prepared to work through the holiday and into the weekend if necessary.
If you are without power, be sure to call your utility or report it online. Don't assume your neighbors have already done so.
Wind gusts topped out at 63 mph at New Castle International Airport in Delaware, late Thursday night. Overnight, gusts of 61 mph were reported at Atlantic City International Airport and in Mount Laurel, New Jersey. The top gust at Philadelphia International Airport was 53 mph as many parts of the region had gusts surpassing 50 mph. A gust of 48 mph was even reported as far north as the Poconos.
Winds kept whipping into the wee hours of Christmas morning, but the worst of the winds were gone before daybreak, the National weather Service said. Christmas decorations might have blown away if not tied down.
Besides taking down power lines, the storms also downed trees and branches, causing some damage to properties, including this one in Pike Creek, Delaware.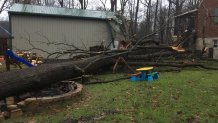 Lots of rain fell by the time the last of the storms began moving out mid-morning with more than an inch having fallen in most neighborhoods.
Walnutport in Northampton County had the most rain reported in the region at 5.47 inches. The most rain reported in the closer suburbs was 3.69 inches near King of Prussia, Montgomery County. Middletown, Delaware, and Eagleville, Montgomery County, had gotten nearly 3 inches of rain as 10 a.m. Glendora, Camden County, has just under 2.5 inches of rain.
Flood warnings were in effect along areas prone to flooding like creeks in Pennsylvania, northern Delaware and parts of South Jersey through much of the morning.
As the rain moved out later in the morning, colder temperatures rushed in. The temp in Philly dropped 10 degrees in just a couple hours during the morning. Temperatures Friday are expected to fall to the low to mid 30s by late afternoon.
It will still be breezy on Christmas afternoon, and partly sunny conditions return. It will feel like the 20s.
The weekend will continue to see cold weather as sunshine returns and high temperatures only hit the low 30s Saturday before warming into the low 40s Sunday.
Make sure you download the NBC10 app and keep checking the First Alert Weather forecast so you can get any updates.