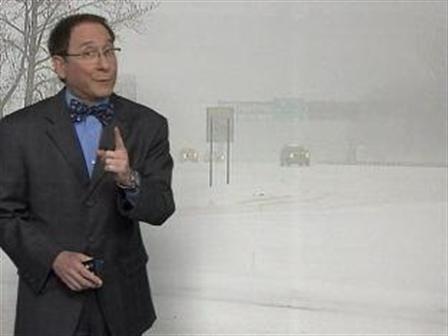 Here's a quote from my winter forecast made last November:
"We have recently seen a weak El Nino (very favorable for cold and snow) quickly increase to the moderate range. That cuts down the chance for a very cold winter. But we should still see a lot of storms. Almost every time an El Nino increases rapidly, it also decreases rapidly. So I'm predicting that to happen this winter. That means our best chances for cold and snow are in February and March, a lot like last winter."
That part turned out right, but as we all know, our record-breaking winter snowfall wasn't predicted by anybody. Not even close. Our 78.7 inches smashed the old record from the winter of 1995-96 of 65.5 inches.
The "lots of storms" part was typical of a moderate or greater El Nino. Looking back, the overall winter El Nino strength was similar to 1965-66, 1957-58, and 2002-03. Those seasons averaged 38.5 inches, WAY above our average of 19.3 inches.
This is one of those cases where the simplest solution would have been the best (not usually the case). One of my mistakes was taking into account the record El Nino of 1997-98, when we ended up with less than 1 inch for the whole winter.
So, we knew there would be lots of storms. But would warm air flood the east and make them mainly rainstorms, or would there be enough cold air for snow changing to rain (and possibly back to snow)? No one would have even considered three major storms that were basically ALL SNOW!
Anyone who has lived around here for a long time knows how rare a big, all snowstorm is. How did this happen?
It all goes back to the North Atlantic and the Arctic -- specifically the North Atlantic Oscillation (NAO) and Arctic Oscillation (AO).
The NAO and its influence on winter snow and temperatures around here has been well documented for a long time. A negative NAO equates with a blocking pattern in the North Atlantic that leads to cold air and a more southern storm track that leads to snowstorms. The NAO in October was negative (-1.03, which is very significant). A local study showed that in 15 of 18 years, a negative NAO in October reversed and led to a positive NAO for the winter as a whole. So I expected a positive NAO was more likely for the winter.
WRONG.
The AO is not known as well (nor is there much research that I know about related to winter here). It is related in a way to the NAO, so they both tend to have the same sign. And indeed, they did have the same sign last winter -- NEGATIVE. In the case of the AO, it was the most negative on record! That led to cold air and the storm track moving farther south than in a typical El Nino.
And it didn't change all winter, leading to the rare storm tracks that brought heavy precipitation to our area without a changeover to rain.
Last winter was such a freak that there's virtually NO chance of a repeat (or even close to a repeat). So what is likely to happen this winter?
That comes in Part 2.
---
Here are the snow maps from the big storms last winter. Notice how narrow the heavy snow areas were, centered right over us.
http://www1.ncdc.noaa.gov/pub/data/cmb/images/snow/nesis/20091218-20091221-3.99.jpg
http://www1.ncdc.noaa.gov/pub/data/cmb/images/snow/nesis/20100204-20100207-4.38.jpg
http://www1.ncdc.noaa.gov/pub/data/cmb/images/snow/nesis/20100209-20100211-4.10.jpg