What to Know
Strong storms slammed parts of the region on Tuesday, causing flash flooding as well as damage.
Storms brought heavy periods of rain, lightning and gusty winds Tuesday afternoon.
More storms on Wednesday are bringing more flooding threats. Click here for details.
Strong storms slammed parts of the region on Tuesday, causing flash flooding, damage and water rescues in Chester County, Pennsylvania.
Storms brought heavy periods of rain, lightning and gusty winds Tuesday afternoon.
A flash flood warning was in effect for southeastern Chester and Delaware counties until 7:30 p.m.
A severe thunderstorm warning was also in effect for Atlantic, Burlington, Camden, Cumberland, Gloucester and Salem counties in New Jersey until 6:15 p.m.
Up to seven inches of rain fell in parts of Chester County on Tuesday leading to flooding.
Several water rescues were reported in Thorndale, Coatesville, West Caln Township and Sadsburyville.
Flash flooding also led to a landslide that's currently blocking westbound lanes of Route 30 near Kings Highway. Route 30 is also closed between Downingtown and Coatesville due to flooding.
Residents are being warned to stay off roads if possible.
There was a report of lightning striking a home on Somerset Drive in Stroud Township, Monroe County.
There was also a report of a downed tree blocking Bethlehem Road in Lower Gwynedd Township.
A viewer also sent NBC10 a downed tree on Cannon Hill Drive in West Chester, Pennsylvania, after reporting powerful winds.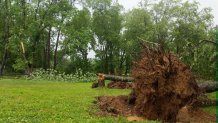 The Philadelphia Flower Show, which is outdoors for the first time this year, also had to be evacuated due to the heavy rain.
Before the storms, high heat and humidity continued Tuesday in Philadelphia and some surrounding communities. An earlier First Alert for sweltering heat, however, expired as temps didn't feel near triple digits.
Temperatures Sunday and Monday were up to 90 degrees by noon, and they continued to go up into the early evening. On Monday, the feels like topped out around triple digits.
It was officially the first heat wave (three days of 90-plus temps) of the season once we hit 90 at Philadelphia International Airport as of noon on Monday.
More Days of Heat, Humidity
Temperatures will drop slightly – likely into the low 90s – Tuesday and Wednesday, but the humidity will go even higher, making for uncomfortable and soupy conditions.
There's another heat advisory in effect for Philadelphia, and the surrounding I-95 Corridor, through Tuesday evening. Temperatures may feel like between 94 to 98 degrees early in the afternoon, before scattered thunderstorms will bring down the temperatures across the region.
Drink Plenty of Water and Stay Safe
Be sure to stay inside a safe place with air conditioning and open windows, and use fans if you don't have A/C in your home. If you're using a fan, the EPA warns that windows or a door should be open to the outside; otherwise, you're just recirculating hot air, which is more dangerous.
Be sure to drink lots of water, even if you aren't feeling thirsty. If outside, wear sunscreen and take breaks in the shade.
You should watch for signs of heat-related illness, which include headaches, nausea, dizziness, fatigue and excessive sweating.
It's also advised that you check on your elderly and vulnerable neighbors to make sure they're safe.
Where to Find Relief From the Heat
Malls and movie theaters have traditionally been places to cool off during hot days. With many COVID restrictions lifted, people can go there and other public places to get out of the heat.
Another go-to spot in years past is Philadelphia's spray parks, which are open again for children to splash around in.
The Jersey Shore and Delaware beaches are also good options, as temperatures there didn't push into the 90s. The rip current risk is low, meaning it's safe to take a dip in the water.
Download the NBC10 app and tune into the First Alert Weather Team on air to get the latest on when the heat will finally break.