What to Know
A wintry mix and some light snow is expected Tuesday, mostly in the Pennsylvania suburbs, Lehigh Valley and Berks County.
A First Alert is in effect in those Pennsylvania neighborhoods until 4 p.m. Tuesday
Not much snow is expected though a wintry mix and light snow could cause slippery conditions.
A FIRST ALERT is in effect for the Pennsylvania suburbs, Lehigh Valley and Berks County from until 4 p.m. Tuesday as wintry weather could cause some slippery spots.
What
The system weakened as it approached the region overnight and not much precipitation is expected Tuesday, but that doesn't mean you won't see some light snow, wintry mix or rain during the day.
The chance for wintry mix, ice and snow is greatest to the north of Philadelphia. The impact is expected to be moderate and during the storm you could see dry periods.
It will mostly rain south of Philadelphia and in the city. Expect an area of snow turning quickly to freezing rain and sleet in areas north and west like the Lehigh Valley, Berks County and the Pennsylvania suburbs. By late morning, some freezing rain and flakes had fallen in upper Montgomery and Bucks counties.
The area under the First Alert could see a coating of snow on grassy surfaces -- even up to 1 inch total -- plus around 1/10 of an inch of ice. While this won't be enough to snap branches, it could cause slippery spots on untreated roads.
Major roadways should remain passable, but a slick spot can't be ruled out.
As temps warm during the day, you could see a switchover from snow to ice to rain.
Where
The Pennsylvania, Lehigh Valley and Berks County are expected to get the most wintry weather. Wintry mix is possible briefly in other neighborhoods and all neighborhoods could see some light rain. The Lehigh Valley has the greatest chance for snowfall.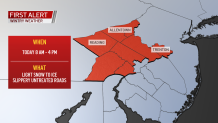 Temps were already above freezing in Philadelphia and points south by midmorning, so don't expect snow there.
When
The First Alert is effect from 8 a.m. to 4 p.m. Tuesday.
School Closings
There are some school closings and delays for Tuesday. Get the full list here.
Download the NBC10 app and stay with the NBC10 First Alert Weather team for the latest updates.