What to Know
The remnants of Zeta brought heavy rain and localized flooding to the Philadelphia region Thursday.
Rain began falling overnight and downpours continued throughout the day.
A First Alert was in effect into Thursday night due to the rain and flooding threats.
A soaking rain, the remnants from Zeta, hit our region Thursday – bringing a localized flooding threat and much colder temperatures.
The First Alert Weather Team issued a First Alert for tropical downpours and areas of flooding for Thursday.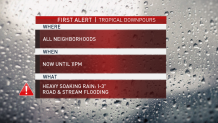 Rain in the Philly region developed early Thursday morning and will become steadier through the morning hours. Heavier rain moved in from Thursday afternoon to Thursday evening.
A fast-moving Zeta weakened to a tropical storm as it barreled northeast Thursday morning after ripping through Louisiana and Mississippi. At least three deaths in southern state were being blamed on the storm.
Rain in Philadelphia could stop entirely late Thursday into Friday morning, but it isn't over. Rain is expected to pic up again -- heavy at times -- Friday morning.
Conditions dry out and clear Friday afternoon with gusty winds that will bring us the coldest weather of the season. The high isn't expected to get out of the 40s on Friday.
A widespread freeze is expected by Saturday morning. The high on Halloween is expected to be around 50.