What to Know
Tropical Storm Fay brought heavy rain and street flooding Friday.
Flash flood warnings expired Friday evening in the Philadelphia area, but flood warnings for high creeks and other areas remained in effect
Rain could continue, though easing through the early morning in some areas, adding to overall rain totals
Tropical Storm Fay unleashed heavy rain, localized flooding and gusty winds Friday from the Delaware and New Jersey shores to rural counties west of Philadelphia.
Fay made landfall early Friday evening near Little Egg Inlet on the Jersey Shore and began a track up the coast. Rain streamed down throughout the Philadelphia area all day Friday, and rain continued through the evening before finally relenting.
Flood warnings are still in effect for Philadelphia and surrounding counties. Flash flood warnings, however, have expired.
The Jersey Shore and Delaware beaches got the worst of the system, with winds reaching up to 35-45 mph there. Inland winds will gust 25-35 mph and rain amounts will be 1 to 3 inches.
Streets flooded and some cars stalled. In Margate City, New Jersey, one person took out a surfboard and paddled through flooded streets.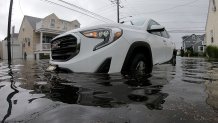 The powerful winds following the rain, especially on the coast, could also cause trees to topple and power lines to fall. People should take precautions and charge their phones.
Weather Stories
The rain will track northward through Friday afternoon and early evening before moving out of our area and into New England.
After drying out Friday night into early Saturday, a cold front will pass through Saturday afternoon, giving us a chance for scattered storms. The heat and humidity return for the weekend, as well. Saturday will be hot with highs in the low 90s. By Sunday the region will dry out but remain humid.
Saturday: Partly sunny, hot and humid with a chance of scattered thunderstorms. High 90
Sunday: Mostly sunny and hot. High 92
Monday: Partly sunny, hot and humid with a chance for afternoon thunderstorms. High 90
Tuesday: Partly sunny and hot. High 90
Make sure you download the NBC10 app and keep checking out NBC10 News for the latest throughout the storm.