Severe storms swept through the Philadelphia area Friday evening with lightning and heavy rain -- the last thing that the area needs after a week of storms in the path of Hurricane Isiais.
One of the biggest impacts came in southern New Jersey, where the Turnpike was closed in both directions sometime after 7 p.m. for flooding. Traffic was stopped between the Delaware Memorial Bridge and 322. Interstate 295 was the recommended bypass. As of 8 p.m., the Turnpike was still closed.
Street and backyard flooding was reported in northern New Castle County, Delaware and southern Delaware and Chester counties in Pennsylvania, including in the busy intersection of Route 202 and Naamans Road.
Trees were reported down in New Castle County and Gloucester County, New Jersey.
But tornado warnings that were issued for the border of Pennsylvania and Delaware, into New Jersey, expired around 7 p.m.
NBC10 had issued a FIRST ALERT for the entire region through Friday night, due to the threat of several rounds of scattered storms with the potential to bring pockets of heavy rain which may trigger flooding.
With recent heavy rains, the ground is saturated throughout the Delaware Valley. Rain amounts of just 1 inch is enough to trigger problems in some neighborhoods.
The storms should weaken as they slide south into southern Delaware and South Jersey, and are forecast to exit over Friday night.
Saturday clouds may linger, and Sunday sunshine will return. An isolated storm is possible Saturday, but the weekend is looking mostly dry. Even Monday looks dry and partly sunny.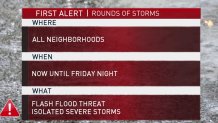 Fri: Mostly cloudy, scattered showers and a chance of thundershowers. High around 80.
Sat: Partly sunny. a slight chance of showers. High in the mid 80s.
Sun: Sunny and hot. High around 90.
Mon: Partly cloudy and hot. High in the low 90s.
Tue: Partly cloudy with scattered storms. High in the low 90s.
Stick with the NBC10 First Alert Weather Team on air throughout the day and download the app to stay ahead of the storm even if you lose power.