What to Know
A two-part First Alert is in effect Wednesday: Heat for most, severe storms for some.
The First Alert for sweltering heat and humidity that will have it feeling like 100 degrees or more is in effect until Wednesday night for all inland neighborhoods in the Philadelphia region.
The severe storm threat of damaging wind and hail is in effect from 4 p.m. to 9 p.m. for Berks, Bucks, Chester and Montgomery counties and the Lehigh Valley.
The heat is back in a big way to the Philadelphia region, leading to dangerous conditions through Wednesday.
The First Alert Weather Team's First Alert for heat goes until 8 p.m. Wednesday and covers the entire region, except for the Jersey Shore and Delaware Beaches.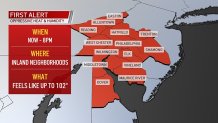 The combination of temperatures in the mid-90s and high humidity will make it feel like triple digits Wednesday afternoon.
The only areas with some relief from the heat are near the coastlines in New Jersey and Delaware.
Severe Storm Threat
The second part of the First Alert is for severe storms that could pack damaging wind and hail in neighborhoods north and west of Philadelphia. The First Alert goes from 4 p.m. to 9 p.m.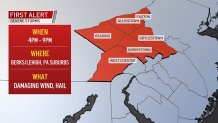 The soupy conditions led to the stormy weather. Scattered showers and thunderstorms hit the area Tuesday and are expected again in the early evening on Wednesday. Damaging winds, lightning strikes and heavy rain from those pop-up storms can't be ruled out.
Weather Stories
The severe threat on Tuesday was more widespread and caused thousands of power outages in parts of South Jersey.
On Wednesday, the storms are tracking toward the further northern and western Philadelphia suburbs, the Lehigh Valley and Berks County, but you should still be weather aware in all neighborhoods.
A severe thunderstorm watch is also in effect in the more northern neighborhoods, including Mercer County, New Jersey.
Tips for Dealing With Heat, Signs of Heat-Related Illness
People should try to limit time outdoors to prevent heat-related illness and find shade if you are outside. Signs of heat-related illness include headaches, nausea, dizziness, fatigue and excessive sweating.
Be sure to stay inside a safe place with air conditioning, and open windows and use fans if you don't have A/C in your home. If you're using a fan, the EPA warns that windows or a door should be open to the outside; otherwise, you're just recirculating hot air, which is more dangerous.
Be sure to drink lots of water, even if you aren't feeling thirsty, to prevent dehydration. If outside, wear sunscreen and take breaks in the shade. Remember that even at the pool you can dehydrate, so drink water.
And, don't forget about your pets. The heat can also be dangerous for them. Make sure they have plenty of water to drink and get breaks in the shade, A/C.
Tracking Rain From Elsa
With Tropical Storm Elsa expected to race up the East Coast this week, rain from the large storm could already be hitting parts of the region Thursday night and last into Friday.
A tropical storm watch has been issued for the Jersey Shore and Delaware Beaches.
There is is still uncertainty about the storm's wind and rain impact for our region, so stay tuned.
Make sure you download the NBC10 app so that you can get the latest on the heat from the First Alert Weather Team anytime you want and the latest storm alerts.