Roaring winds howled through the Jersey and Delaware shore towns Saturday, and are not expected to let up until Sunday afternoon.
The storm initially came from the west, then intensified as it redeveloped off the coast Saturday morning. Rounds of rain continued through Saturday evening.
A gust of 72 miles per hour was recorded in Lewes, Delaware, at 4:55 p.m., the strongest of the day as of 8 p.m., according to the National Weather Service.
Multiple gusts 60 miles per hour or more swept through the Jersey Shore, including 67 miles per hour in Tuckertown at 3:17 p.m., 63 miles per hour in Atlantic City at 2:15 p.m., and 62 miles per hour in Ocean City at 8:49 a.m.
NBC10 has declared a First Alert through Sunday for this disruptive, slow-moving coastal storm.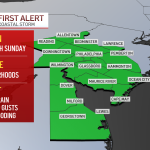 "This isn't the type of First Alert when we're concerned about major damage or posing life-threatening conditions," said NBC10 First Alert Meteorologist Steve Sosna. "But it will bring major impacts to anyone needing to be outside, especially with Mother's Day weekend."
Local
Breaking news and the stories that matter to your neighborhood.
The Phillies postponed the team's Friday night game against the Mets due to the rain, and then postponed the Saturday game. The team is scheduled to play Sunday.
"It's going to feel miserable for May," Sosna said.
Winds should be strongest on Saturday, but should still be gusty through Sunday afternoon.
While Sunday morning began with scattered showers, the wet weather is shifting southward through the late morning and early afternoon. As a result, by the afternoon, Pennsylvania neighborhoods should be dry while the Jersey Shore still gets bands of rain. Either way, Mother's Day should remain chilly and windy.
The Jersey Shore saw coastal flooding with the Saturday night/Sunday morning high tide cycle. Only widespread minor flooding was reported.
Stay ahead of the rain by downloading the NBC10 app for the latest alerts and forecast.