What to Know
A quick-moving storm system, which included a tornado, caused damage to homes, knocked out power and caused issues on SEPTA.

The storms roared through the Pennsylvania suburbs and Philadelphia late on Halloween night into Friday morning.

An EF2 tornado touched down in Glen Mills, Delaware County.
Severe storms that included a tornado swept through Philadelphia and the surrounding suburbs late Thursday night into early Friday morning, leaving behind damage, power outages and commuter delays.
Some suburban towns were particularly hard hit.
As we learn more about damage, outages and school closings, we will update you on this page.
A Tornado Struck Delco
An EF2 Tornado touched down in Glen Mills, Delaware County, the National Weather Service said.
The significant storm packed winds of 111 to 135 mph.
The survey team has confirmed that an EF2 tornado touched down near Glen Mills PA yesterday evening. The tornado was embedded within a swath of straight line wind damage. The survey is still ongoing, so a full report with more details will be released later today. #PAwx

— NWS Mount Holly (@NWS_MountHolly) November 1, 2019
Around two dozen homes in the Chelsea Court neighborhood were damaged, some had walls and roofs torn off. At least one family hid in the basement as the storm quickly damaged their home.
The American Red Cross set up a shelter to help displaced residents.
Tornado Tore Through Delaware County Homes
No one in the Glen Mills area was injured, county officials said while declaring a state of emergency late Friday morning.
Hard Hit by Storms
Besides Glen Mills, Ambler, Montgomery County, and Warminster, Bucks County, were also hard hit.
Storm Rips Through Hamilton Township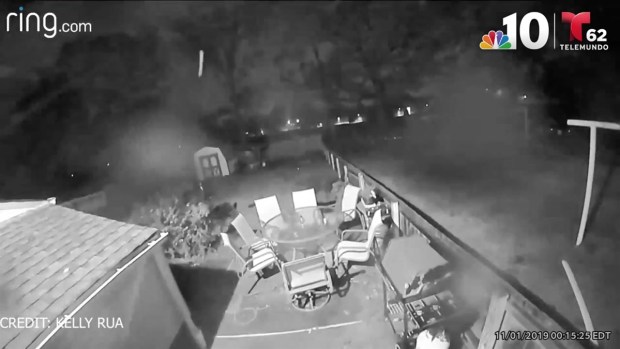 In Ambler, it took crews more than an hour to rescue an older couple trapped in their bedroom by a fallen tree.
Strong winds and heavy rain added to the difficulty of the rescue, Wissahickon Fire Company Chief Jay Leadbeater said.
Montco Couple Stuck in Bedroom After Tree Falls on Home
Between Ambler and Horsham, four people were hospitalized, Montco officials said.
In Warminster, trees fell onto wires, leaving the community in the dark, and onto some homes. By early afternoon about 4,500 customers in the town were without power.
Around Bucks County, there were massive power outages with more than tens of thousands of customers without power still as of midday. With power out, schools closed and traffic lights didn't work during the morning commute.
Trees Down, Power Out After Storms Hit Bucks County
In Philadelphia, a tree uprooted and fell onto cars along Henry Avenue.
The National Weather Service in Mount Holly said they are "way behind on gathering reports." They asked that people share damage reports with them on social media.
Hello everybody. We are way behind on gathering reports. In the meantime, please pass along any reports of damage from tonight's storms. Time and location essential. (And thanks to those who have submitted reports already!)

— NWS Mount Holly (@NWS_MountHolly) November 1, 2019
Share your photos of storm damage in your area through the NBC10 app. Please be careful and don't put yourself into harm's way.
SEPTA Lines Suspended
Wire problems led to the suspension of the entire Warminster Regional Rail line through the morning, SEPTA said. The line was finally restored around 1 p.m.
The Lansdale/Doylestown line was initially entirely suspended. By Friday afternoon the line continued to not operate between Chalfont and Doylestown.
Storms Stop SEPTA Trains
Later in the morning, SEPTA's Paoli/Thorndale went down due to Amtrak power problems, the agency said.
The Norristown High Speed Line is suspended between Radnor Station and Norristown Transportation Center until further notice.
The agency initially hoped to have the lines back running as normal by midday Friday, but some of the suspensions continued into the afternoon as crews worked to clear tracks and restore power.
Expect overcrowded conditions on train, bus and trolley lines that are running, SEPTA said. Trains could also skip stations due to overcrowding.
Throughout day, Regional Rail passengers were being warned of delays up to 40 minutes on all lines.
Power Outages
Around 6 a.m. Friday there were about 107,000 PECO customers without power.
Utility crews worked through the morning trying to restore power. The total number of outages was down to around 53,000 as of 2:15 p.m., with most in Bucks and Montgomery counties.
Give Yourself Extra Time
Downed limbs, more people on the roads due to SEPTA suspensions and power problems caused longer Friday morning commutes. Please give yourself some extra time to get where you need to go.
Schools, County Office Closed
Germantown Academy, the Springfield Township School District, the Upper Dublin School District and the Wissahickon School District in Montgomery County are all closed. CB West, CB South and Bridge Valley schools in the Central Bucks School District and the entire Centennial School District are also closed.
The Central Bucks power issues put CB South's PIAA football playoff game against North Penn in question before power was restored Friday afternoon. The CB West playoff game versus Ridley remained in question.
The Hatboro-Horsham School District in Montgomery County opened schools two hours late due to power outages and road closures.
Temple University's Ambler Campus is closed Friday due to the "widespread power outage" in the area.
Other schools in the area could still close or open late as the morning progresses.
All Bucks County government offices operated on a two-hour delay Friday.
Cold Temps Remain for the Weekend
The gusty winds from the Halloween system swept the clouds and storms out of the area early Friday morning and brought in much chillier air.
The highs on Friday, Saturday and Sunday are expected to be in the 50s. Lows in most of the region could drop to below freezing during the weekend mornings. The National Weather Service issued a freeze warning for Saturday morning for all counties except Philadelphia.