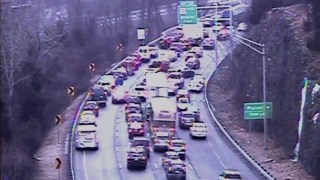 With winter weather dropping ice, snow and slush on the roads, it's important to remember safe driving practices in these cold conditions.
"Conditions will not get worse" said NBC10 Meteorologist Bill Henley, about the weather on Monday. "The temperatures will continue to rise until early afternoon, reaching 40 degrees."
Temperatures, however, are forecast to drop around 6 p.m. Monday night to 32 degrees and will continue to plummet into the teens overnight and through Tuesday morning according to Henley.
Any roads that remain uncleared will be hazardous for Tuesday morning's commute.
Traffic is moving but can be slow in some areas especially between Quakertown and Lehigh where a tractor trailer spun off into a ditch early this morning according to Traffic Reporter Jillian Mele. To avoid major delays take Route 306.
Here are some safety tips for commuters from AAA. For the full article click here.
Important driving reminders:
Maximize vehicle visibility by clearing all snow off the roof, hood, trunk, lights and windows.
Turn the lights on, even during the day, to decrease the rate of collision by 25% according to Driving Safety Tips.
Check the battery level of the vehicle since cold weather starts require a fully charged battery.
Clean salt spray off lights to increase visibility.
The brakes are the most important safety tool for winter driving, especially in icy conditions.
Tires should be fully inflated and in good condition (air is free at gas stations.)
Make sure the cooling and heating system has enough antifreeze to prevent freezing in cold weather.
Lastly, windshield wipers should be replaced frequently to prevent streaky wiping that decreases visibility.
Check out NBC10 Severe Weather Alerts for updates on what's headed this way.