A tractor-trailer crashed off an overpass and spilled its load of kegs onto Interstate 95 in Bucks County Tuesday morning, Pennsylvania State Police said.
The wreck around 9:05 a.m. left debris including dozens of mostly empty kegs and wooden pallets on part of the northbound lanes and shoulder near Woodhaven Road (Route 63) and onto a road at the Cornwells Heights Park and Ride. It appeared the truck fell off a ramp that goes from I-95 southbound to the access road for the park and ride.
The truck driver was helped out of the cab, county dispatchers said. Harleysville, Pennsylvania-based Oak Ridge Transport Inc. told NBC10 that the driver is in critical but stable condition.
A red sedan with front end damage also wound up backward on the highway. State police weren't sure if that car was struck by a keg, the truck or crashed as the driver tried to avoid the scene.
Raw Video: Kegs Spill Onto I-95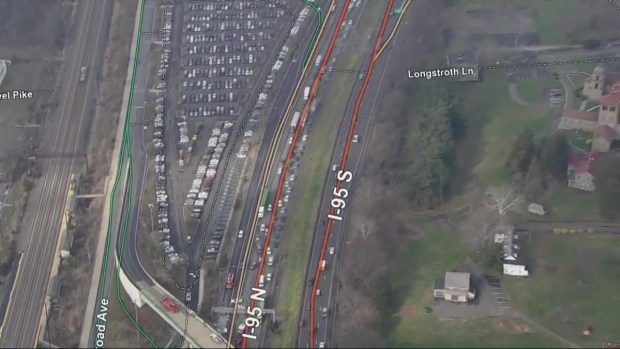 One lane squeezed by on the inner shoulder as crews responded to the scene. The roadway was finally reopened shortly before 11 a.m. as clean-up efforts continued.
Cleanup continues in Bensalem after truck hauling mini kegs crashed. @NBCPhiladelphia is on the scene. pic.twitter.com/Tt1se8jjhN

— Steven Fisher (@Steven_Fisher10) April 10, 2018
A tow truck was called in to upright the truck. Crews, some using brooms, pushed the debris off the roads. They threw some of the mess, including the kegs, into a large dumpster.
It was unclear what caused the truck to drop off the overpass. It was going to Delaware to drop off the empty kegs, Oak Ridge said.