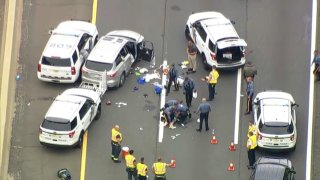 A man stabbed a K-9 and injured a state trooper following a chase that ended on the New Jersey Turnpike on Monday, police said.
The ordeal began around 2:15 p.m. when state troopers from the Bellmawr Station responded to a report of a shirtless, knife-wielding man standing outside of his vehicle on I-295 near exit 28 in Bellmawr Borough.
When state troopers arrived, the man entered his vehicle and drove off, police said. He continued to drive northbound on I-295 as the troopers pursued, according to investigators.
Police said the suspect then exited I-295 at exit 36A onto State Highway 73 before entering the New Jersey Turnpike at Interchange 4.
The troopers continued pursuing the man as he drove northbound on the Turnpike before his vehicle was finally disabled at milepost 37.1. When troopers ordered the man to exit his vehicle, he refused, police said. A K-9 was used to help the troopers capture the man. As they tried to apprehend him, the man allegedly stabbed the K-9 with a knife. The troopers removed the injured police dog and captured the man after he exited the vehicle, investigators said. 
As the troopers arrested the man, he allegedly struck one of them with a flashlight. SkyForce10 was over the scene as the troopers handcuffed the suspect and then placed him on a stretcher.
The K-9 was taken to an animal hospital and listed in stable condition. The trooper suffered non-life-threatening injuries and was taken to an area hospital.
Police have not yet revealed the suspect's identity or the charges he'll face. They continue to investigate.
Northbound lanes of the NJ Turnpike were closed at the scene of the crash. They were later reopened.