What to Know
Crews used pins and poles to pop thousands of balloons dropped to end the DNC

The crew has three weeks to transition the arena back to normal
A massive drop of red, white and blue balloons capped off four days of Democratic National Convention at the Wells Fargo Center in South Philadelphia late Thursday night.
But once the balloons dropped and the delegates began to leave the arena, the arena operations crews -- used to normally transition the arena from Sixers to Flyers games -- armed with sharp points began cleaning up by popping the patriotic balloons. Raw Video: Balloon Popping After DNC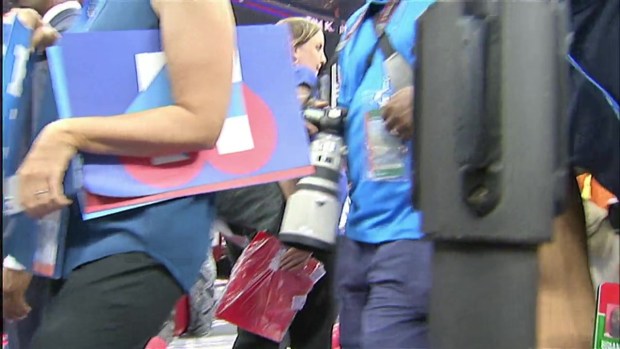 "We have the job," said Brian, wearing a Flyers cap and a smile as he bent over to pop balloon after balloon.
"There's a lot of work to do," said co-worker Odeen, wearing a Phillies cap.
"We do a lot. We do the breakdown, setup of the court, setup for concerts, basketball, hockey. We do a little bit of everything, we're operations," said Brian.
But the operations team had the unique task overnight of balloon poppers.
"This is the job to have right now, all you gotta do is 'pop, pop, pop,'" said Brian.
So what's the tool of the trade for these building-converting experts? Brian, bent down, used a 2016 Twitter pin to pop some of the thousands of balloons scattered over the arena floor.
"A fine pin will bust all these balloons," Brian said.
Brian showed off his pin while shouting "Hillary!"
After about an hour, the crew of balloon poppers expanded as people carrying long poles with pins on the end attacked the balloons.
"Pop, pop, pop," rang throughout the arena and then all the balloons were gone after about two hours. Somewhere, Nena must be singing.
Time-Lapse: Live this morning with the clean-up of #DemsInPhilly@NBCPhiladelphiapic.twitter.com/m1IEbrEs04

— Matt DeLucia (@MattDeLucia) July 29, 2016