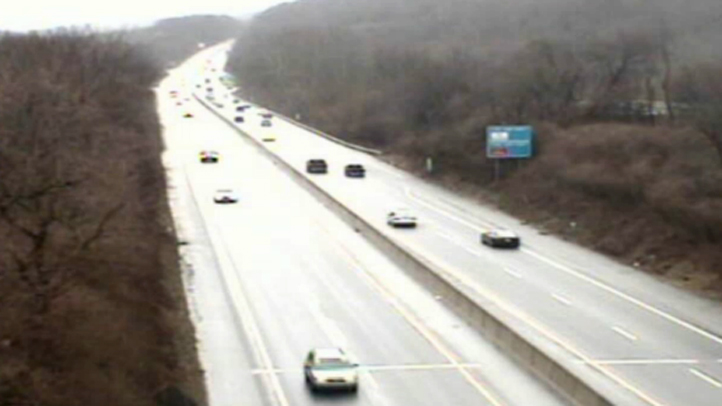 We've set up more than 30 cameras from around the region so that you can get a live check on the roads during this spring storm. The cameras are programmed on a loop -- they change every 10 seconds.
Here's a list of the roads, county-by-county that you're seeing:
Lehigh Valley:
I-78 at Lehigh Street.
Rt. 22 at MacArthur Rd.
Chester County
Rt. 30 at Rt. 340
Rt. 202 at Rt. 401
Rt. 100 at PA Turnpike
Delaware County
Rt. 1 at Creek Rd.
I-476 at McDade Blvd.
I-95 at Rt. 420
Montgomery County
Rt. 422 at Rt. 29
Rt. 202 at Allendale Rd.
I-75 at Gulph Mills
Bucks County
I-95 at NJ State Line
Rt. 1 at Pennsylvania Ave.
Philadelphia
I-76 at Spring Garden Street
I-95 at Airport
I-676 at I-76
Mercer County
I-295 at Rt. 33
Rt. 29 at Warren St.
Burlington County
I-295 at Rt. 38
Springdale Rd. at Church Rd.
Camden County
I-295 at Rt. 70
Rt. 73 at Evesham Rd.
Gloucester County
AC Exprewssway at Rt. 42
Rt. 47 at Rt. 40
Salem County
NJ Turnpike near Del. Memorial Bridge
Cape May County
Garden State Pkwy at Cape May Tolls
Rt. 49 at Woodbine Rd.
Atlantic County
Ocean County
Delaware
There is one camera shot each time around from Delaware. It shows ONE of the following roadways:
Newark: Main St. at Rt.72
I-495 at Edgemoor Rd.
Bear: Rt. 1 at Rt. 40
Glasgow: Rt. 40 at Rt. 896
Middletown: Rt. 301 at 299
Smyrna: Rt. 13 at Duck Creek Rd.
Dover: Rt. 1 at Dover Tolls
Rehoboth: Rt. 1 at 1A