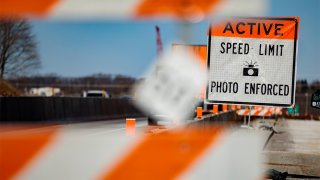 What to Know
For the safety of workers and drivers, Pennsylvania is using technology to enforce active work zone speed limits.
The Automated Work Zone Speed Enforcement (AWZSE) program goes into effect this week.
Drivers going 11 mph or more over the speed limit will get a warning for a first offense. They will then be fined $75 for a second violation and $150 for subsequent violations.
Drivers are being warned to slow down or pay up as work zone speed cameras in Pennsylvania are going into effect across highways in the Keystone State.
The implementation of Automated Work Zone Speed Enforcement (AWZSE) program comes after months of a pilot program that came to an end on Wednesday.
Electronic speed-timing radar and non-radar devices are mounted on vehicles parked in active work zones. Photos posted by PennDOT show white SUVs with the camera mount on top.
The AWZSE system detects drivers going 11 mph or more over the posted speed limit through work zones, according to a 2018 law passed by the state legislature.
Registered car owners will receive a warning letter for an initial offense, Pennsylvania Department of Transportation said. A second violation will result in a $75 fine and the fine goes up to $150 for a third offense.
The tickets are civil fines only and no points will be put onto driver's licenses, PennDOT said. Drivers will have up to 30 days to contest any tickets.
Officials say the goal of the program isn't to penalize drivers, but rather to protect workers in active work zones.
"Ultimately, this program is not about issuing violations, it's about saving lives," acting PennDOT Secretary Yassmin Gramian said in a prepared statement. "In 2018, 23 motorists were killed in a Pennsylvania work zone."
In 2018, there were also more than 1,800 work zone crashes in Pennsylvania.
Since 1970, PennDOT has lost 89 workers in the line of duty and the Turnpike has lost 45 workers since 1945, according to the transportation agency.
"The goal is to build awareness and most importantly, to change unsafe driving behaviors," Pennsylvania Turnpike CEO Mark Compton said. "The program serves as a roadway reminder that safety is literally in each driver's hands when they are behind the wheel."
The money collected by the work zone speed cams will pay for the cost of the program.