Here's what you need to watch in Pyeongchang over the next 24 hours:
US Shut Outs Russians 5-0 in Women's Hockey, Lamoureux Davidson Sets Record
USA Women's Hockey Dominates Russian Athletes 5-0
American Jocelyne-Lamoureux Davidson has set the Olympic hockey record for the fastest consecutive goals by a man or woman, helping the United States shut out the Russians 5-0. Lamoureux-Davidson scored 6 seconds apart in the second period. According to the International Ice Hockey Federation, that topped not only the mark previously held by Caroline Oullette of Canada at 16 seconds in 2006 against Italy in Turin but also the men's mark of 8 seconds apart set by Carl Goran Oberg of Sweden in 1960 at Squaw Valley. Up next for the Americans is an early showdown with their biggest rival on Thursday against Canada.
Kim Wins Gold, White Advances to Final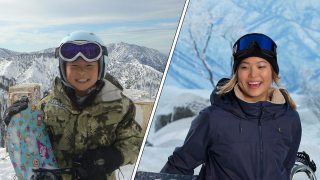 Chloe Kim's Adorable Childhood Photos
Chloe Kim's coronation is complete.
Seventeen-year-old Chloe Kim was golden Monday night, dominating the women's halfpipe to win her first Olympic medal. Kim put up an unbeaten 93.75 on her first run, but later, after her victory was secured, she scored a near-perfect 98.25.
Liu Jiayu took silver with an 89.75, becoming the first Chinese snowboarder to medal at the Olympics. American Arielle Gold edged out veteran Kelly Clark to win bronze.
MORE: Chloe Kim's Dad: 'She's Our American Dream'
Meanwhile, veteran snowboarder Shawn White made a statement that the sport isn't just for teenagers.
White won gold medals in the men's halfpipe in his first two Olympics, but finished fourth in Sochi in 2014. He's looking for redemption in Pyeongchang. He qualified Tuesday with an impressive 98.50 in his second run and will go for a medal on Wednesday (Tuesday night in the U.S.).
Summer Britcher, U.S. Women Finish Off the Podium in Luge

Erin Hamlin, America's flag bearer during the opening ceremony, was unable to defend her bronze medal in singles luge Tuesday, coming in sixth place in the competition that will be her last.
Hamlin is retiring after the Pyeongchang Games, her fourth Olympics. The medal she won at the 2014 Winer Olympics was Team USA's first Olympic singles luge medal in the sport's 50-year Olympic history.
Fellow American Emily Sweeney crashed in the final round of sliding, bringing the competition to a halt as she received medical attention, but she was ultimately able to walk off the track.
Defending Olympic champion Natalie Geisenberger of Germany won another gold.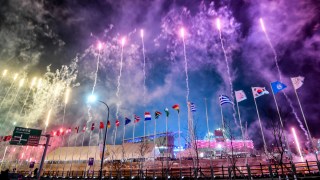 Opening Ceremony in Photos: Flags, Fireworks, Tiger Puppet
Pennsylvania's Summer Britcher, the all-time leader in USA Luge singles history, ended up in 19th place.
Speedskater Biney Eliminated In 500m Short Track; Italy takes gold
Italy's Arianna Fontana won the 500-meter short track after a photo finish just ahead of Korea's Choi Min-Jeong.
But Choi didn't get to celebrate: After the race, the judges penalized Choi for cutting the line. Dutch skater Yara van Kerkhoff was given the silver and Canada's Kim Boutin the bronze.
Ghana-born Maame Biney, the first black woman to qualify for a U.S. Olympic short track team, was eliminated from the 500-meters during a tough quarterfinal Tuesday morning.
Americans Fail to Medal in 1500m Speedskating
Four-time Olympic medalist Shani Davis and his compatriots Joey Mantia and Brian Hansen were unable to grab a place on the podium in the 1,500-meter long track speedskating event Tuesday.
Davis and Mantia were part of the disappointing team that went without any medals at the Sochi Games in 2014, which Mantia has called "a complete disaster." The 1,500 meter is his best event and he was considered the Americans' best shot at a medal.
Mantia's eighth-place finish was the best among the Americans and an improvement on his Sochi results, but nowhere near the Netherlands' Kjeld Nuis, who took gold. Team USA hasn't won a speedskating medal since the Vancouver Olympics in 2010.
Watch here, and during NBC10's daytime Olympics coverage at 3 p.m. Tuesday.