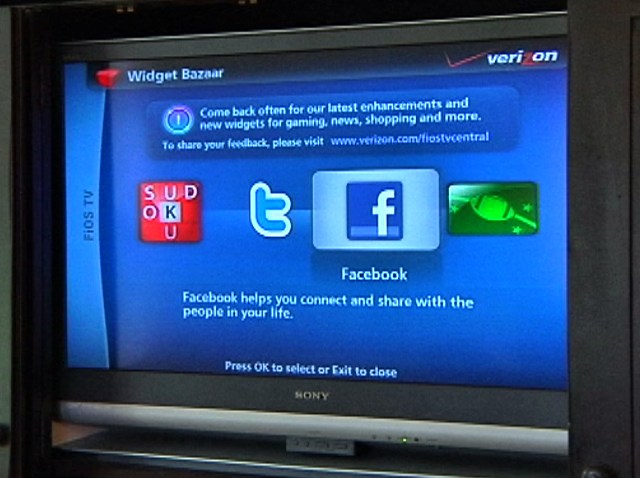 While watching TV, Stacey Mignone got the urge to see what her friends were up to. But instead of pulling out the notebook or iPhone, she simply launched the Facebook widget right on her flat screen.

Verizon's fiber optic television service has launched a free feature called Widget Bazaar, which allows users to control Internet applications right from their remote.

With the Facebook widget, users can update their status, view profiles and photo albums and even let their friends know what they're watching. The social networking site doles out a pin number to be used to access the service, rather than users trying to type in their full password via the remote.

The service was launched just a few weeks ago, but seems to be catching on. The apps squeeze out from the right side of the screen, keeping your show on the left side -- sorta like what happens when you view the channel guide .

"I love it," said Mignone who especially loves the What Your Watching feature. "I always had the idea that maybe I'd be watching a television show and would look and see what other folks are posting...and maybe go see what their watching."

So far the bazaar only has four apps -- Facebook, Twitter, Sudoku and ESPN Fantasy Football -- but Verizon plans to expand the offerings.

As for those of you who don't have FiOS, cable operators are expected to release similar widgets and apps with new service called Tru2Way -- essentially Cable 2.0. Comcast began rolling Tru2Way out in a few cities earlier this year, but has yet say when it would be fully available.

Until then, pick up a netbook.