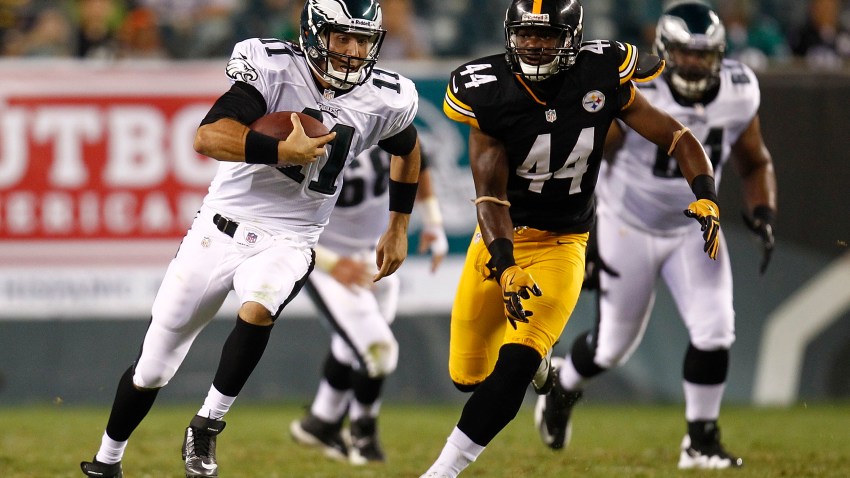 Deep breaths.
It was just the first preseason game. We can't expect greatness. We can't even reasonably expect quality. So why do I feel so disappointed after last week's first preseason game -- a 24-23 Eagles win?
It isn't the fact that we saw many issues with the team -- it's that they were the exact same issues that killed playoff hopes in 2011. Watching the first team defense, I briefly wondered if I was seeing a greatest hits collection of last year's worst tackling attempts. Then there were the deja vu coverage breakdowns. That wasn't supposed to happen. Everyone knew what the problems were and they were getting fixed, right? Let's talk highlights and lowlights:
Brian Rolle looked worse than I've ever seen him. Really poor angles to the ball, completely whiffed tackles. Shouldn't he have improved this offseason, not regressed?
On the other hand, some positive signs from rookie Mychal Kendricks. He certainly wasn't perfect, but Kendricks was the only starting linebacker who I saw make a clean wrap-up tackle (twice).
The whole team is lucky that Michael Vick didn't break a finger or three when his hand slammed into Jason Kelce's helmet. Vick deserves more than to be judged on his first two short series, but initial impressions weren't great. He stepped into pressure multiple times when he had a mostly clean pocket. (Although Kelce shouldn't be getting pushed back either.)
While we're on the subject of injuries, I hold my breath every time LeSean McCoy touches the ball in the preseason.
Alex Henery's game-winning field goal was Akers-esque.
Mike Kafka threw a terrible interception on a screen pass. There isn't a quarterback competition, but rookie Nick Foles looked more poised out there than Kafka.
The defensive line did stand out. The Steelers O-line was a revolving door all night and some of that may have been on them. Still, at least so far, Jim Washburn is delivering on his promise for an even better line -- and that was without both starting ends. Philip Hunt and Brandon Graham looked like Pro-Bowlers for 20 minutes.
Also exciting: the return game. Brandon Boykin erased all memories of Dion Lewis with his first kick return, and Damaris Johnson showed DeSean-like quickness on punts. Brought tears to my eyes (not really).
Not faulting Nnamdi Asomugha for the touchdown, which looked like a Jaiquawn Jarrett special. However, Antonio Brown did beat him badly one-on-one for a quick slant route. Quickness isn't really Nnamdi's strength at this point.
Finally, Nate Allen will look like a Pro Bowler when he comes back and replaces Jarrett. This image is going to haunt my nightmares.