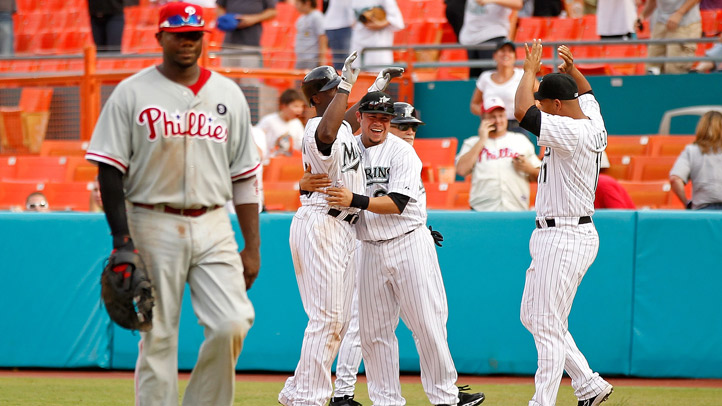 Following
Monday night's loss in Houston
to the basement-dwelling Astros, Phillies Manager Charlie Manuel was none too pleased with his squad, calling their play "sloppy," which is putting it kindly.
The Phillies took the early lead on a second inning RBI single from the criminally underrated Pete Orr, a lead that is normally more than enough for the Phillies' Armada. But it proved to be far too little. Roy Oswalt, who seems to be hell bent on pitching his way below Kyle Kendrick on the team's starting pitching depth chart, couldn't hold the lead. He gave up five runs over seven innings.
Usually, a loss like this can be brushed off. Call it the September effect. Lousy clubs seem to play above their heads, taking on the role of spoiler as the great teams take their foot off the gas, giving themselves a much needed reprieve as the long season winds down.
But, is this self-prescribed rest, or something more worrisome? Are the Phillies finally starting to show some cracks in their previously blemish-free veneer?
The series opener loss against the Astros was their second loss in a row. That's about as good an indicator as any that this team is coming apart. One loss can be written off. But two in a row? Something is definitely amiss.
All the other wins, or their pristine ERA, or their vaunted offense -- those are just numbers on a piece of paper. Don't hide your hope there.
The truth is: the Phillies are crumbling. And at the worst possible time.
It starts with the starting pitching. Oswalt blew the lead on Monday, but
he was just aping Vance Worley's performance on Sunday
. And even before Worley pitched himself out of a win, the normally great Cliff Lee allowed a pair of runs in his start, succumbing to the pressure of a face off against a potential playoff opponent. In fact, the only starter who can escape a lot of criticism is Roy Halladay, but even he failed to go a full nine innings in his start against the Brewers.
And it's not like the offense has been doing their part. With a paltry two runs per game since Saturday, they've chosen to ignore their hitting woes. While John Bowker and Ben Francisco are relegated to bench duty, the Phillies run out the likes of Hunter Pence every night. And that's despite the fact that he looks like he belongs in a baseball uniform as much as an oil rig worker belongs on a stage reciting one act plays written by Cormac McCarthy. In this game we wear two batting gloves, son!
It's like this team has forgotten to how to win.
With only a few weeks to go until the playoffs (assuming the Phillies still make it), Charlie Manuel needs to find a way for the Phils to start winning. Losing to the dregs of the National League is no way to get by. If they even want to sniff at the World Series, they should probably start acting like it.
*NBCPhiladelphia.com is not responsible for the reader's lack of a sense of humor.