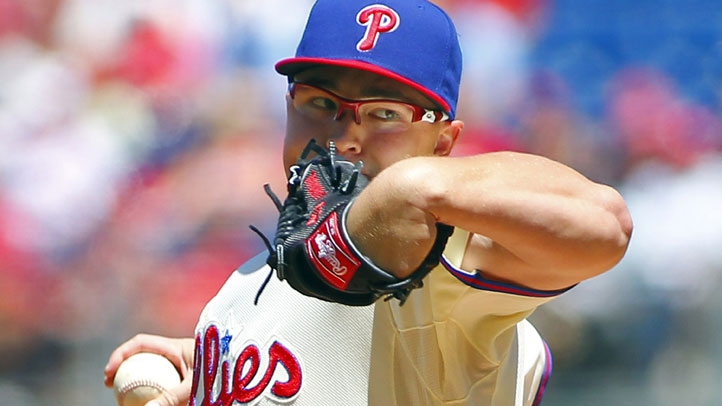 Vance Worley's got a loose bone chip in his elbow, and it hurts him to pitch. But the Phillies are going to keep trotting him out there for the rest of 2012. This doesn't make much sense, given that they're not contending again until 2013.
The Phils have even acknowledged as much with respect to Worley's injury, and are justifying their decision
"My understanding is the issue isn't going to take a whole offseason to recover from," Phillies assistant general manager Scott Proefrock said, per MLB.com's Todd Zolecki. "As long as he can still pitch and there's not a risk of him hurting himself ... and from everything I understand, there's no issue there."
Except the issue is that the Vanimal hasn't been as effective since he returned from the disabled list -- because of that chip in his elbow. Proefrock says that's not the case, however.
"He's pitched some good games, he's pitched some bad games," Proefrock said. "You've got to remember last year was his first time around. The second time around, you've got to make adjustments. My impression is [Worley's struggles] are not related to the issue."
Maybe not, but the pre- and post-disabled list splits make things pretty clear. Worley hit the DL with a 3.07 ERA in seven starts with 45 strikeouts in 44 innings pitched. In 13 starts since returning from the DL, Worley has a 4.50 ERA and 52 strikeouts in 74 innings.
Couple his post-injury struggles with the way the injury went down -- Worley had "elbow soreness," then immediately hit the disabled list, then had a terrifying bone chip, then didn't need surgery and said he'd pitch through pain (!) -- and the logical thing, I think, is to have serious concern that Worley might further injure himself and not be ready for the Phillies attempt to re-load and go after the NL East in 2013.
And yet, there apparently have been no discussions about calling the dogs off on his 2012 season.
"I haven't been involved in any discussions whatsoever with shutting him down," said Proefrock.
It's kind of crazy that they haven't even talked about this right? (Or allegedly haven't talked about it anyway.) Worley's the No. 4 pitcher, but he's the fourth starter in one of the best rotations in baseball and the Phillies absolutely need him to be ready for next year.
Gambling that he can finish out the season with bone chips rattling around in his elbow, pitching through pain and then just be ready for spring training doesn't make a lot of sense. Setbacks happen all the time for pitchers recovering from injury, and there's no real debate about what's more important between the end of 2012 and the beginning of 2013.