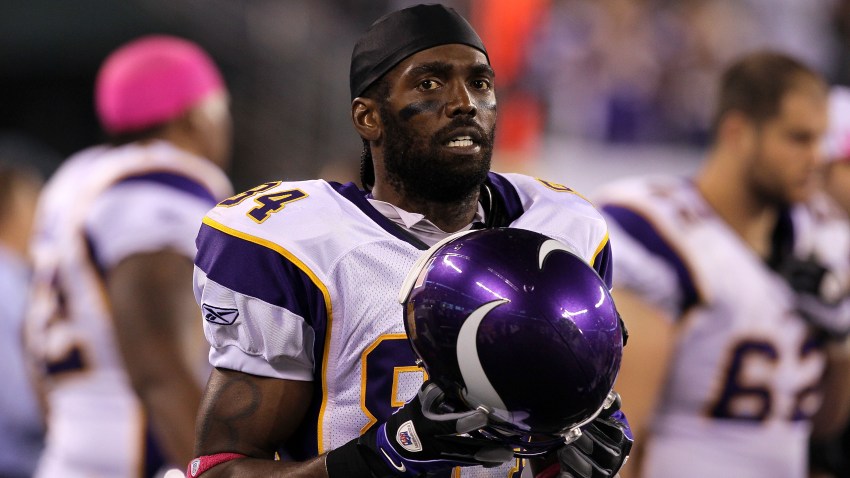 Some decisions, according to Andy Reid, are simple. For example, when you're "in a situation where [you've] got an ex-superstar that now has regained his abilities," that's pretty obvious that you have to go out on a limb and have him start for your football team. Even if that guy isn't the best public face, or is the best option long term — winning right now is the priority.
That's what Reid said just a few weeks back when he promoted Michael Vick to starting quarterback over Kevin Kolb. Locker room schism, please. Future be damned. Public relations people too. Reid laughs in the face of danger, especially when he can win with someone who the rest of the NFL has written off.
So, by that same logic, why not claim Randy Moss off of waivers?
Sure, Moss isn't the best role model. He's quit on two teams in one season, annoying Reid's Alaskan fishing buddy Brad Childress enough to get waived yesterday — just one month into Moss's second stint with the Vikings. And the Hall of Fame-caliber wide receiver's skills may be in decline. He's only caught 22 passes this season, on pace for his lowest mark since he played with Oakland in 2006.
Yet other evidence suggests Moss remains a dangerous weapon. Even with so few receptions, he's yet again on pace for over ten touchdowns — in what would be his fourth year in a row and tenth of his career. Plus, his still-exceptional speed and leaping skills basically require double coverage. While Moss didn't put up great numbers over his four games playing with Brett Favre, his presence opened up big gaps in coverage for Percy Harvin.
Moss could have the same effect on the Eagles' young receivers. And his presence would allow Reid the luxury of bringing DeSean Jackson back slowly from concussion. Let's face it, would you rather have Moss in the lineup next Sunday or Chad Hall?
Ultimately, Reid has already made the case for bringing in a reclamation project like Moss when he signed Vick directly out of jail. Then Vick's promotion over QB-of-the-future Kolb sent a message loud and clear: forget rebuilding, we're going to win now.
I'm not convinced that this strategy is sound, considering the youth of the team and the multiple holes throughout the lineup. And the Eagles have already leaked that they're not interested in bringing No. 84 to Philly. But if winning the Super Bowl this year is truly what you're looking for at all costs, an offense of Vick launching bombs to Moss, Jackson, and Maclin sounds like the obvious way to go.