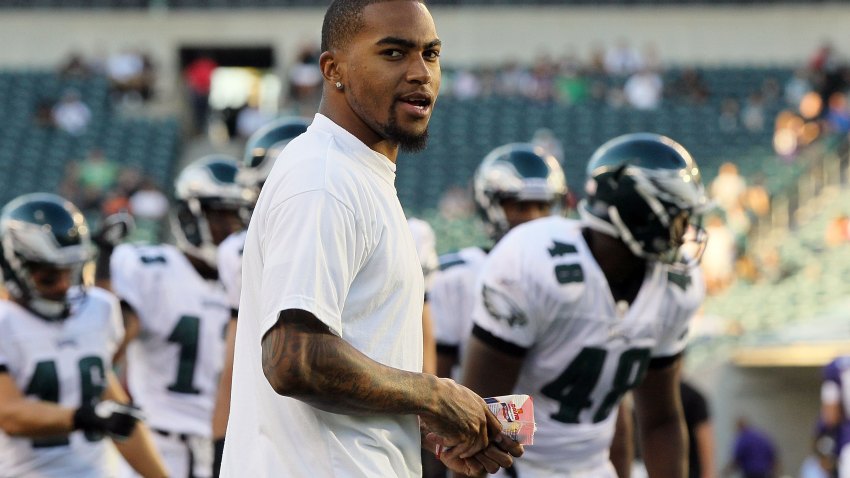 With Jeff McLane's latest report suggesting that the Eagles plan to place the franchise tag on DeSean Jackson, and sources close to the wide receiver in the same report saying that Jackson "would not balk at signing the Eagles' one-year tender," I'm starting to wonder if this whole ugly situation might be resolved with less drama than we thought.
At its most basic, every negotiation is a game of chicken, and the Eagles-DeSean contract mini-feud is no exception. It's all about who flinches first to prevent the worse possible outcome -- a season in which the Eagles keep DeSean but he refuses to sign the franchise tender and play the 2012 season without a new long-term deal.
Jackson folding first means he would just sign the franchise tag and play out the year with a guaranteed $9.5 million. The Eagles, on the other hand, could give up and trade Jackson for minimal return. Neither side wants the worst outcome, so someone has to break.
Looking at the prospects again, it seems like Jackson is in the weaker position, largely because the Eagles can legitimately pre-commit to their course of action. One of the ways to win a game of chicken -- typically illustrated by two cars driving right at each other -- is to pre-commit by signaling to the other driver that you have locked your steering wheel into place and cannot deviate from the collision path. Thus, if the other driver doesn't want to end up crashing, he must flinch first.
The Eagles can't lock their proverbial steering wheel, but their history of negotiation shows enough evidence that they won't budge. In fact, the Eagles over the years have almost never traded a player or given him a contract extension just because he demanded it. They would rather let Terrell Owens ruin a season or let Lito Sheppard ruin his trade value than capitulate. They also have refused to accept below-market value for trades, even when a player's public comments gave other teams leverage negotiations.
DeSean knows these things, and can't be anxious to end up as the next Vincent Jackson circa 2010.
Plus, speaking of the Chargers wideout, this free agent wide receiver class is very good. Dwayne Bowe, Marques Colston, Stevie Johnson, the aforementioned V-Jax and others can claim similar or higher value than DeSean.
Meanwhile, Jackson's performance in his original walk year of 2011 left a lot to be desired. He regressed on the field and showed immaturity off it.
Given Jackson's contract demands, high trade cost and underachieving performance, the market for his services may not be nearly as fruitful as he might have hoped a year ago. While he may try to play out the game, perhaps even into training camp, there's not much downside to signing a one-year, $9.5 million guaranteed deal. If he can improve in 2012, there will be even more opportunities to hit it big in free agency next time around.