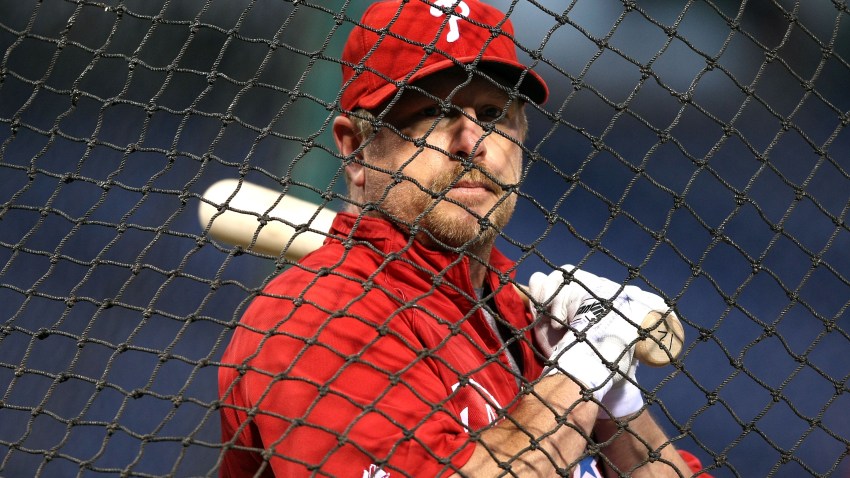 Two burning personnel questions have hung over the Phillies this spring -- who will be the fifth starter? And, who will be the 25th man on the roster?
The fifth starter race is down to a battle of two arms -- J.A. Happ and Chan Ho Park are in a tight race with the loser landing as a long reliever in the bullpen.
The race for the last batter on the bench wasn't so clear until Monday. About five or six guys were gunning for one spot until the Phils made some moves.
The Phillies released Marcus Giles on Monday, according to ESPN's Jayson Stark.
They also informed Pablo Ozuna and John Mayberry Jr. that they would be starting the season in the minors, said Stark.
That leaves left-handed outfielders Matt Stairs and Geoff Jenkins battling it out with right-handed infielder Miguel Cairo to fill our the roster.
Without any major last minute trades or injuries two out of the three veterans will make the team and one won't.
Cairo currently is the only right-handed hitter left in the running for a roster spot.
The veteran infielder has done enough to earn a spot on the team. He has batted .277 with three dingers and 6 RBI in 47 Spring Training at bats.
Should Cairo make the team than the Phillies could only keep either Jenkins or Stairs on the roster. The guy who doesn't make the team could be traded or flat out released by the Phils.
It's tough to call who has the inside track on breaking camp with the team. Both guys have 42 spring at bats and a .238 batting average.
The only real differences were in power numbers. Stairs slugged .476 while Jenkins slugged only .357.
Add the fact that Stairs is a more accomplished pinch hitter over his career and the nod seems to be for Stairs.
Things aren't as easy as numbers on the field. Money counts -- Jenkins is owed $6.75 million while Stairs is only due $1 million.
Stairs could be a more attractive piece to an American League team because he makes less money than Jenkins. He also has experience as a designated hitter in his career unlike Jenkins.
Who the Phillies keep on the bench remains a mystery soon to be answered but for now the best bets are Cairo and Jenkins to head north with the Phillies.