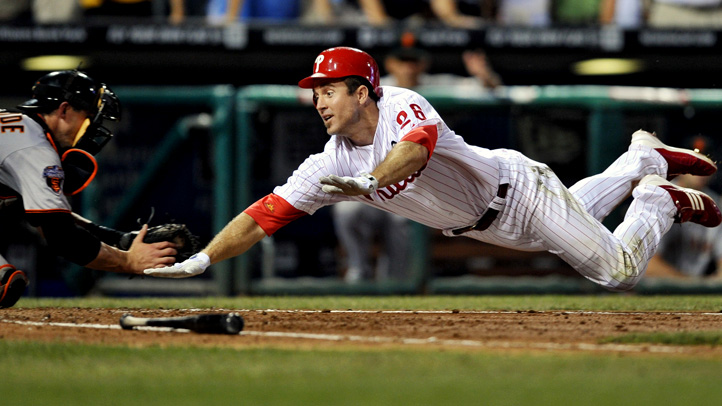 When word got out that Chase Utley's 2011 season could be in serious jeopardy thanks to a knee injury that wasn't an easy fix, many wondered whether or not the five time All Star and best second baseman in the game would ever be the same.

As it turns out, those fears were premature, as Chase made a characteristically speedy recovery and found himself in the starting lineup near the end of May. His impact was nearly immediate, as the lineup got a bit deeper, more patient, and regained a great deal of pop and overall hitting acumen, as he replaced the light-hitting combination of Wilson Valdez and Michael Martinez.

The change was immediate. In Utley's first game back in the lineup, they tuned up the Cincinnati Reds, and they hardly looked back. Prior to that game, the team was averaging 3.83 runs per game, and owned a hitting line of .245/.312/.364. Since that game, the Phillies have put up 4.92 runs per game, and have a line of .259/.330/.421. The increase in offensive production is not insignificant, as one of the biggest knocks of the team was their inability to put runs on the board due to an aging offense.

But with Utley in the offense, taking pitches and getting on base in the three hole, the lineup is completely altered, more dynamic, and much more troublesome for opposing pitchers.

And at first, everything looked right with Chase. Despite having a balky knee, his defense was fantastic, and his bat – which took a few weeks go come around – was no worse for the wear. In his first 57 games back, he hit to eight homers, 13 doubles, four triples, and knocked in 25 runs while hitting .286/.376/.493. He was getting on base and hitting for power in perhaps the most important spot in the lineup.

However, the past few weeks have not been kind to Utley. Since August 1st, he's hit only one home run and has driven home eight runs, while hitting .234/.303/.342. In that same span, Utley has seen his line drive rate go from 12% to 9%, and his ground ball rate from 35% to 41%. That, along with his one home run, are showing a somewhat troubling decrease in power.

It could be a sample size that is not big enough to draw a meaningful conclusion from, after all, players have bad months all the time (just ask Raul Ibanez), and the start and end point of this recent slide is rather arbitrary, but it's nonetheless disconcerting that Utley looks wildly different in the box than he did just over a month ago.

It's possible that he is just slumping, but it's also possible that the knee that put his season in jeopardy at the beginning of the year is acting up, or worse, that some other ailment is troubling him. It's not like we'd know about it anyway, because this is the same guy who kept a serious hup injury under wraps during the second half of the 2008 season.

With a 7.5 game lead in the division and a comfortable grasp on the best record in the National League, the Phillies are all but assured to make the playoffs, so it's not as if they need to win out over the next few weeks. Thanks to that luxury, they can afford to sit players down for an extended amount of time. In the case of Utley, who hasn't missed that much time since returning to action in late May, it is absolutely in his best interest (and that of the team's) for him to get some much needed rest between now and the playoffs. After all, what good is having Chase Utley on your team if he can't be Chase Utley when the stakes are highest?