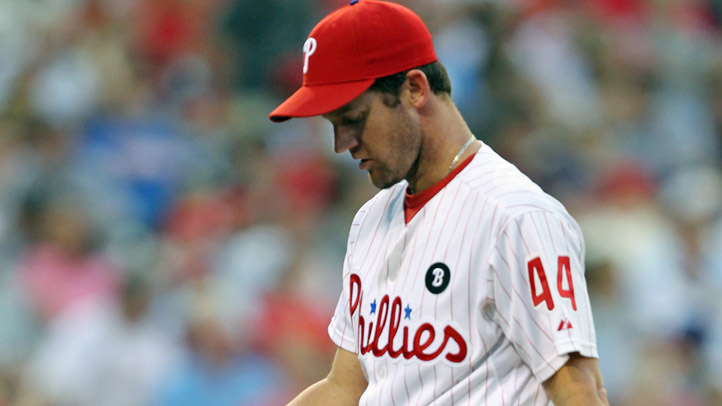 There is something very wrong with Roy Oswalt. Even before a back injury caused him to leave his start on Thursday night in St. Louis after two innings, where he allowed four runs on five hits, anyone with a set of eyeballs and decent comprehension skills could tell that something was amiss with the right hander.
But it was his comments after the game, where he spoke about just how much pain he's been dealing with, that revealed that it wasn't a normal flare up that he's dealt with so many times before over his career.
David Murphy from The Daily News has more:
He said an MRI a year or two ago revealed two degenerative discs. He doesn't think it has gotten to the point where they are bulging. He doubts he will make his next start. He has an MRI scheduled for Monday, and they'll compare that MRI to the previous one.

This isn't something that a shot will fix. Oswalt said he has already had a lot of shots, and any more there is a risk of "stuff breaking off."

"At this point, I'm not really helping the team," he said. "I'm more of a liability more than anything. See where I'm at, and if it is something i have to get fixed, I have to get it fixed. Just see where it's at. I don't know."
It's a pretty candid evaluation of himself and what his immediate future holds. He'll miss his next start, for sure, and probably several others after that, and it's not out of bounds to think that he might have thrown his final pitch as a Phillie. You have to figure that that would be the worst case scenario, but back injuries can be tricky, and it's not like rehabbing a calf strain or even a broken bone.
Even though none of us can really be surprised by this outcome – after all, Roy's back issues weren't necessarily a secret – It doesn't make it any less gut wrenching to read his comments. For a veteran like Oswalt, you'd really hate to see it end like this, on the road in the middle of the season.
But, maybe that's just the pessimism speaking. We won't know more about Oswalt for a few days, and that unfortunately gives us way too much time to conjure up the worst possible outcomes for one of the Aces.
In the meantime, let's all cross our fingers and hope that Roy can make one final run at a World Series ring.