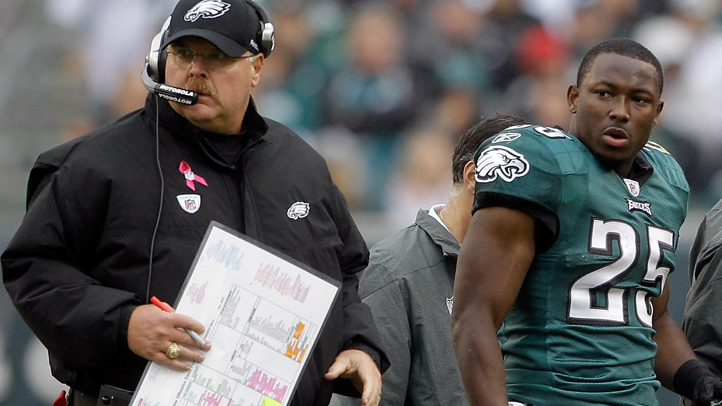 Game time: Sunday, Sept. 16, 1 p.m., Lincoln Financial Field
TV: CBS
Weather: Mid-70s, partly cloudy
Records: Eagles (1-0), Ravens (1-0)
When the Eagles have the ball. Any conversation about this offense has to start with quarterback Michael Vick who had an abysmal effort against the Browns last week. And while it's easy to just point to the four-interception effort as proof that Vick bears most of the responsibility for this unit's shortcomings, the reality is that it's more complicated than that.
The offensive line has to improve as does the play-calling. Here's what Bird Nest's Brian Solomon wrote Wednesday: "Why did the Eagles keep four running backs if they aren't going to use them? Take some pressure off of Vick by running more of the offense through LeSean McCoy. And if you're worried about McCoy breaking down, give some carries to Bryce Brown (or Dion Lewis or Chris Polk)."
Great question.
Like Solomon, Andy Benoit, writing for FootballOutsiders.com, points to the plays dialed up by offensive coordinator Marty Mornhinweg as one of the culprits to Vick's struggles.
"Just about every pass play (which there were too many of, by the way) involved slow-developing routes from the outside receivers," Benoit wrote Thursday. "The interior routes from the slot and tight ends were also slow-developing and too easily defended. Vick had to spend the first two seconds of his dropback just waiting for routes to unfold."
To his credit, Mornhinweg admits that Vick shouldn't be throwing the ball 56 times in a game.
"We won the game but certainly, looking back, we could have done some other things," he said Thursday. "That's hard. Just because you have a whole overload amount of turnovers doesn't mean just because it didn't work very well because of the penalties and turnovers doesn't mean it wasn't the right thing to do. …
"As far as the running game … it just seemed like we were 1st-and-20 [a lot], and a lot of those runs got called back."
Whether a week is enough time to fix everything that went wrong against the Browns is another issue. The Ravens, even without defensive player of the year Terrell Suggs, are still a formidable group. And it doesn't help that Jeremy Maclin and DeSean Jackson are banged up heading into the weekend and oculd possibly miss the game.

So while any success this offense has starts with Vick, there are plenty of other moving parts that all play key roles.
When the Ravens have the ball. Baltimore quarterback Joe Flacco targeted eight receivers in the team's Week 1 win over Cincinnati and in the process he completed 72 percent of his passes. One of his biggest issues during his career has been maintaining consistency from one week to the next and facing the Eagles in the Linc will be a good test of where he is in his development.
If there's good news it's that the Eagles' defense played well against the Browns, it's just that their effort was obscured by the sheer ineptitude of the offense to hold onto the ball. Still, they'll have their work cut out for them against the Ravens and their new-fangled no-huddle offense.
"The good thing is that [we've been working on defending the no-huddle]," Eagles defensive coordinator Juan Castillo said Thursday. "That is part of every defense. In the OTAs you have time and you work on certain situations and no huddle is one of the situations that we worked on in the OTAs and in training camp."
As for stopping the no-huddle Castillo said this: "I think the first thing is the different tempos that they have. Sometimes it is a fast tempo like a two-minute mode. Sometimes they'll snap it off at 13 or 14 [seconds on the play clock] and then sometimes they'll go right to the end. I think just with us the good thing is that we have been practicing hard at it and we're kind of excited to see what our no-huddle [defense] looks like."
The best way to get an offense out of the no-huddle is to get after the quarterback, disrupt his timing and create turnovers. That means big games from Nnamdi Asomugha and Dominique Rodgers-Cromartie as the the defensive line gets pressure with a four-man rush.
X Factor. Big games from punter Chas Henry and kicker Alex Henery. Special teams is often overlooked but field position will be a big determinant in who wins Sunday. Drives will stall against this Ravens defense which means that when opportunities arise the Eagles have to capitalize. Just ask Baltimore how important it is to convert makable field-goal attempts: Billy Cundiff honked a 32-yarder in the AFC Championship game last year sending Baltimore home and New England to the Super Bowl.