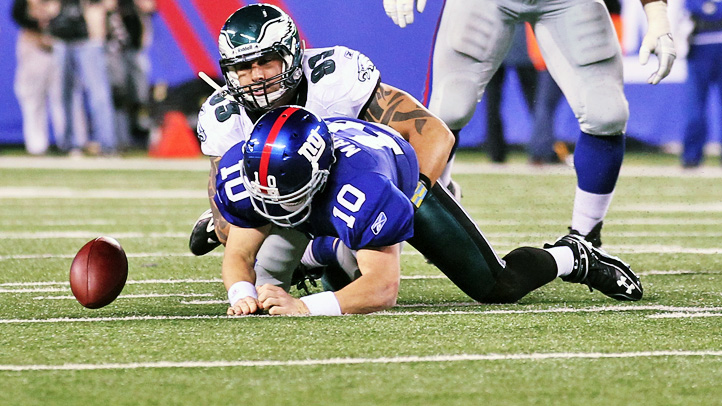 Game time: Sunday, Sept. 30, 8:20 p.m. ET, Lincoln Financial Field
TV: NBC
Weather: mid-60s, partly cloudy
Records: Giants (2-1) at Eagles (2-1)

When the Eagles have the ball. We think this observation from quarterback Michael Vick pretty much says it all: "I'm very concerned about the turnovers. Being the competitor that I am, I understand that you have to protect the football. I cut back on the interceptions last week and had two fumbles but it's something that I know I can get corrected."

Of course, these are the things that haunt your dreams after losing the ball 12 times in three games -- three more than any other team. But as we've documented previously, this isn't all on Vick. The offensive line has been spotty and the game plans have been, well, curious.

Coach Andy Reid admitted following the loss to the Cardinals that the Eagles should've run the ball more and maybe this is the week it finally happens. And if Reid's still not convinced perhaps this will nudge him in the right direction: according to Football Outsiders, the Giants rank 22nd in the league against the rush. (It's worth pointing out that Philly's rush offense is 21st, but those are Canton-worthy numbers compared to their pass offense, which is an embarrassing 31st ahead of the napless Rams.)

Still, during his Friday session with the media, offensive coordinator Marty Mornhinweg wouldn't fully commit to running the ball more.

"We went 11 plays there in the first half in the two-minute (against the Cardinals)," he said. "We only had nine plays in the first quarter. I think somewhere in there it was like eight passes to three runs, and that's not unusual for us. I did want to go after them down the field and we did have some opportunities there. All of a sudden, it's 17 and 24 to nothing. We just didn't have very many plays, and all of those passes were in the two-minute at the end of the quarter and that's typical there. We just didn't have many plays. Then, we got behind so much that we had to throw the football a little bit."

We understand that situation, in large part, dictates play-calling but there's a quote from Albert Einstein that explains insanity as: "Doing the same thing over and over again and expecting different results." Seemed appropriate here.

In related news: wide receiver Jeremy Maclin is expected to play, which is good since the Eagles could be throwing the ball a lot Sunday night.

When the Giants have the ball. Eli Manning has quietly emerged as not only one of the NFL's best quarterbacks but the best Manning currently playing tackle football. Reid, who you may have heard is a big proponent of matriculating the ball down the field via the forward pass, had only laudatory things to say about the Giants' QB.

"Right now, Eli is playing as good as any quarterback in the National Football League," the coach said. "I mean, these last few games, he's been on fire."

New York doesn't have Larry Fitzgerald but they do have Hakeem Nicks, Victor Cruz and now, Ramses Barden. This will keep Nnamdi Asomugha, Dominique Rodgers-Cromartie and Brandon Boykin plenty busy. Defensive coordinator Juan Castillo explained the team's decision last week not to shadow Fitzgerald with Asomugha, a decision that didn't go well.

"Well, what it was is we feel pretty good about Dominique [Rodgers-Cromartie] too and I think you've seen Dominique in action," he said Thursday. "That was part of the reasoning behind that; that Dominique was a pretty good corner, that he could handle Larry too, and [CB Nnamdi Asomugha]. So, that's what we went [with]."

But he was less forthcoming about Philly's game plan heading into the Giants game. "Well, that's something I'd rather not talk about, because they listen to things like that."

Unlike the offense, however, Philly's defense has been good bordering on great. Football Outsiders ranks them second overall (second against the pass, ninth against the run). Given that the Giants have found a running game, expect them to attack the Eagles on the ground and through the air; running backs Ahmad Bradshaw and Andre Brown should share carries and if they're successful, Manning will try to exploit Philly's linebackers and defensive backs with the play-action pass.
X Factor. Here's what we wrote last week in this space: "The Eagles cut Mat McBriar this preseason and stuck with Chas Henry who's now struggling with consistency."

Well, guess who's back with the team? Special teams coach Bobby April said it came down to reliability.

"I think looking down that long corridor of a season we thought we could get more consistency and kind of know exactly where we're at with each punt from McBriar," he said.

We've written about it on previous occasions but the field position battle is often overlooked. And more times than not it's a critical factor in the outcome. If McBriar brings a steadying influence to the punt coverage team, then it's a change worth making.

The Eagles' best chance will be if they can pressure Manning, something easier said than done. Short of that, it'll be up to the offense to avoid turnovers and control the time of possession. Again: easier said than down.