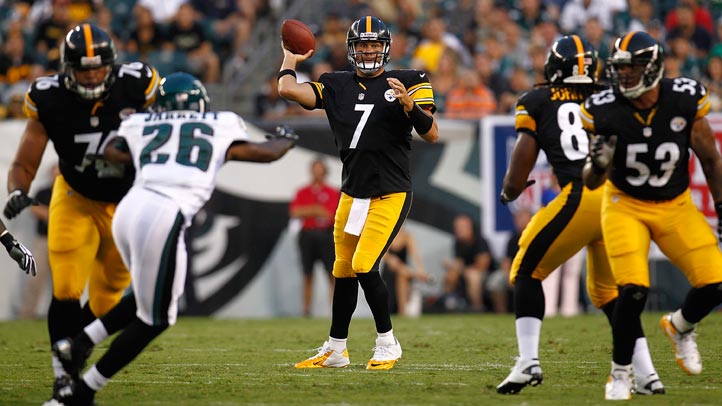 Game time: Sunday, Oct. 7, 1 p.m. ET, Heinz Field
TV: FOX
Weather: mid-50s, cloudy with 30% of rain
Records: Eagles (3-1) at Steelers (1-2)

When the Eagles have the ball. The two biggest hurdles facing this offense have been turnovers and hits to quarterback Michael Vick. In last Sunday's win over the Giants, the Eagles didn't give the ball away, and Vick was sacked just twice (and one of those was when he gave himself up in the backfield to set up a field-goal attempt).
And after injuries and inconsistency, Philadelphia's offensive line has come together, and coach Andy Reid has to be happy with a running game that had its way with New York a week ago. Then there's DeSean Jackson, who admitted before the season that he took plays off a year ago and is now having the best year of his career.

All together, there's a lot to be excited about.

But ultimately, any conversation about wins and losses starts with Vick. And this Sunday in Pittsburgh he can expect to see a Steelers defense that will be healthy for the first time all year. Former defensive players of the year James Harrison and Troy Polamalu should play, which bolsters, well, every phase of the game -- the pass rush, as well as the pass and rush defense.

Still, if Vick continues to progress in this offense (it's night and day when you compare that Week 1 debacle against the Browns to the Giants game) the defense really won't matter. After all, New York has the most menacing front four in football and they struggled to generate pressure all evening.

But it's one thing to say Vick keeps getting better; it's something else to live up to those expectations from one week to the next. The Steelers' D might be down on its luck after being at Peyton Manning's mercy in Week 1 and having its collective lunch handed to them by the lowly Raiders in Week 3, but defensive coordinator Dick LeBeau is the brains of the operation. Which means that a game-changing hit, fumble or interception is always a play away.

Vick has to continue to make good decisions, utilize his checkdowns and get the ball out of his hand quickly. The offensive line has to continue to protect him, and Reid has to continue to lean on LeSean McCoy. If those things happen, Philly has a great chance to go to 4-1.

When the Steelers have the ball. Todd Haley may have replaced Bruce Arians as offensive coordinator, but Ben Roethlisberger is still 6-5, 250-ish and impossible to bring down. In a sense, he's what happens in Madden when you take Michael Vick and super-size him. And unlike past seasons when the Steelers didn't have many playmakers and relied more on the running game, now this unit features wideouts Mike Wallace, Antonio Brown, Emmanuel Sanders and tight end Heath Miller. And they're also expected to get running back Rashard Mendenhall back this week.

Not that this year's version of "three yards and a cloud of dust" has been much of a factor. Just the opposite, in fact. As in, one of the worst rushing "attacks" in the NFL. Which is good news for the Eagles' pass rushers.
In general, making an offense one-dimensional is typically the goal of every game plan. The problem: the typical opponent doesn't have Big Ben at quarterback. And there's also the issue of depth in Philly's secondary. Earlier this week, Antonio Brown called Eagles rookie cornerback Brandon Boykin "the candy bar" which, as Brown explained, is code for "He's given up a lot of plays … whoever gets that guy definitely has to take advantage."

Boykin's response: "I didn't even get it. I was confused," he said. "It's good. It's doing nothing but giving me a little bit more attention. I have to go out and do what I do, and if I do it right, he's actually helped me in a sense. So tell him I appreciate it."

So there's that subplot.

Defensive coordinator Juan Castillo was asked Thursday if teams are going after Boykin.

"I think what ends up happening is when you have Nnamdi (Asomugha) on one side and Dominique (Rodgers-Cromartie) on the other side, I think other people and their passing game they might not throw the ball outside as much," he said. "...I think it's a couple of things. When you have two Pro Bowl type corners on the outside and then you have a rookie (in the slot), it's not Boykin's fault it's his first year in the NFL. ...Besides being a talented young man, he's very confident, he works hard, he's here in the morning, every morning at 7:30 studying. Those are the qualities that he has and it's not his fault it's his first year in the NFL."

If Boykin plays the slot he'll get plenty of chances to cover Brown. And if the Steelers first three games are any indication, how Boykin performs could play a big role in the outcome (in Week 3's loss to the Raiders, Brown was stripped after a long run that helped Oakland to a last-second victory).

X Factor. The Steelers fired their special teams coach just before the season and coincidence or not, the coverage units haven't been particularly good. And neither has the kick return unit, although Brown has been as explosive as ever at punt returner.