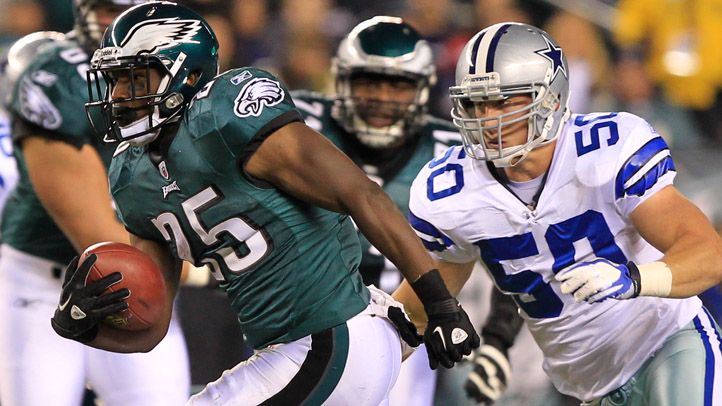 Game time: Sunday, Dec. 2, 8:20 p.m. ET, Cowboys Stadium
TV: NBC
Weather: low-60s, clear
Records: Eagles (3-8) at Cowboys (5-6)

1. Is this the week Nick Foles breaks out? To be fair, Foles had his best game of the season against the Cowboys three weeks ago, when he came on in relief of Michael Vick. He completed 22 of 36 posses for 219 yards with a touchdown and an interception. He struggled against the Redskins in Week 11 and didn't fair much better versus the Panthers last Monday. But with Vick still recovering from a concussion, Foles will get another start. He needs to show something because if not -- and the Eagles decide to move on from Vick this offseason -- the quarterback search is back to square one.

2. Can Bryce Brown hold onto the ball? Given everything else he did against the Panthers -- the 178 rushing yards and two touchdowns -- it's easy to overlook the two turnovers (especially since the loss didn't mean much in the scheme of things for Philly). If Tiki Barber can overcome fumbling, then anybody can. The bigger issue: can Brown become a bigger part of the Eagles' offense once LeSean McCoy gets healthy. In today's NFL you can't have enough healthy backs. And having two big-play threats is even better.

3. Will the loss of Jason Babin matter? No, of course not. If it did,the Eagles would've kept him. Instead, the team decided to part ways with Babin and his 5.5 sacks for financial reasons, according to ProFootballTalk.com. The goal was to save a little money and to also get younger players a look. And why not? When you're 3-8 pretty much anything goes. The good news: more playing time for Vinny Curry, who dressed Monday for the first time all season. He had five tackles and his motor was better than advertised.

"I gave it all I had," Curry said earlier this week via CSNPhilly.com. "I was kind of upset I didn't get any sacks. I almost had a couple, but things slipped away, I got knocked off him [Cam Newton] one time, but I was bringing it. I was trying to make a statement."

Mission accomplished.

4. And what about those communication issues on defense? At this point, we're not even sure it matters. The defense has remained relatively healthy this season and it's not only the biggest liability on this team, it's one of the most disappointing groups in the league. Communication obviously has a lot to do with that (at least recently), but unless Nnamdi Asomugha needs someone to communicate to him that covering receivers and making tackles are a critical part of the game, then defensive coordinator Todd Bowles should save his energy for the inevitable job search.

Put another way: if the Eagles can't get their coverages right against a rookie (Robert Griffin III) and a second-year quarterback (Cam Newton), they won't have much of a chance against Tony Romo.

5. So, what's left to play for? A check. And for the young players, an opportunity to earn a job in 2013. Beyond that … well, not much. We can talk about pride all we want, but if the Eagles had pride, it would've showed up before December.