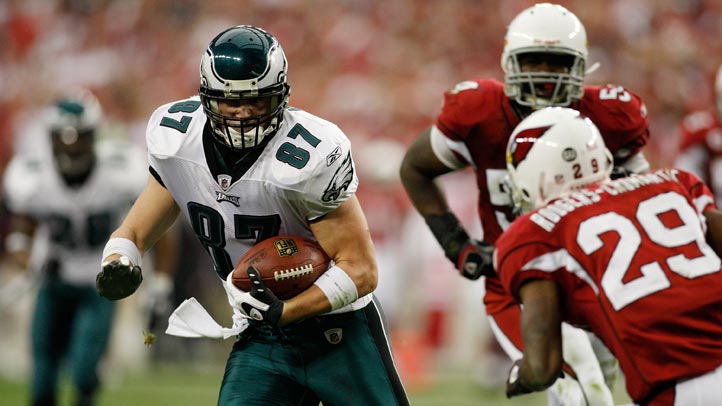 Game time: Sunday, Sept. 23, 4:05 p.m. ET, University of Phoenix Stadium
TV: Fox
Weather: 101 F, sunny
Records: Eagles (2-0) at Cardinals (2-0)

When the Eagles have the ball. If the Eagles thought they had their work cut out for them last week against Baltimore, the Cardinals will be an even tougher test. According to Football Outsiders, Arizona's defense ranks eighth through two weeks (the Ravens are 10th). The biggest issue facing Philly is avoiding turnovers, something they haven't been able to do. It hasn't affected the final score though there's no way this model for winning is sustainable. Think about it this way: morale is relatively high among players and fans. A couple breaks go the other way and the Eagles could easily be 0-2 and we're all having the "here we go again" conversations. But football really is a game of inches and those inches are currently the difference between first place and last place in the division.

As for eliminating the turnovers, offensive coordinator Marty Mornhinweg seems unconcerned.

"I'm just telling you, the players are proud. They want to take care of the ball and they want to have possession of the ball after every play," he said Thursday. "So, normally, it gets corrected that way. There are some things we do in practice with ball security drills and there's many drills that we do go through. But normally, if you emphasize it, [it gets corrected]. The players have to emphasize it among themselves, which we did. I didn't, the players did because I didn't have to because the players did that themselves at halftime. Normally, that will get corrected that way."

On Sunday, it all starts up front. Philly will be without two starters along the offensive line -- center Jason Kelce is on injured reserve and left tackle King Dunlap will be sidelined with a tweaked hamstring. Exacerbating matters: Cardinals defensive end Calais Campbell is a beast. This fact has not eluded Mornhinweg.

"Yeah, he had 10 [passes batted down] last year, second in the league, and he gets his paws on the ball as he's 6-foot-8," Mornhinweg said Thursday. "He has an excellent feel. You don't do those things by accident. He's just got an excellent feel. He also is a good pass rusher, so if he thinks he's getting there, he'll get there. If not, then he softens up, then tries to time his arms in there, in many cases, with a jump. So, yeah, that'll be a part of the game for us."

The Eagles will have to be balanced regardless; the Cardinals are too good for Philly to be one-dimensional and expect another win. Patrick Peterson is not only one of the league's best young cornerbacks he's also one of the top returners. That could mean fewer targets for DeSean Jackson and more work for Jeremy Maclin, Jason Avant and Brent Celek.
When the Cardinals have the ball. This is how big an impact Kevin Kolb has had since arriving in Arizona from Philly prior to the 2011 season: we totally forgot that this was the reunion game with his former team. He's been that inconsequential over the last 13 months. But after starter John Skelton went down with an injury in Week 1, Kolb has been something more than serviceable, which can be good enough when coupled with this Arizona defense. It doesn't hurt to have Larry Fitzgerald -- or to be facing three rookies this week.

However, Eagles defensive coordinator Juan Castillo isn't worried about the youth and inexperience on his unit.

"What happens is with the OTAs all those three kids were able to show what they can do, show their ability to learn, and really their ability to make plays. I think you guys are probably out there and watch [LB] Mychal [Kendricks] deflecting passes, really in minicamp, and [CB Brandon] Boykin is doing the same thing, and then [DT] Fletcher [Cox] all training camp he was doing well. I think that they earned their playing time."

Then there's cornerback Dominique Rodgers-Cromartie, the other player in the trade that sent Kolb to the Valley of the Sun. He's been more consistent this year as he's learned the scheme.

"Dominique is a very competitive person," Castillo said. "He likes to challenge receivers and he's getting an opportunity to do that on the outside. He had great OTAs. He was here a lot. He understands our concepts. He understands the coverages. He understands what we're trying to do with the coverages. He understands the leverage. He understands where he's getting help on [plays], [even though] he doesn't really like help, but when he's not getting help. I think the OTAs have really helped him. His confidence [is there] and he really understands what we are trying to do."

Ultimately, the Eagles' success lies in avoiding turnovers on offense and stopping Fitzgerald on defense. Michael Vick is primarily responsible for the former while the latter will be a group effort.
X Factor. The Eagles cut Mat McBriar this preseason and stuck with Chas Henry who's now struggling with consistency. Punting may seem like the red-headed stepchild to placekicker but field position might be the most underrated parts of the game. Which is why the Eagles are right to be concerned.

"We talked last week about (consistency)," special teams coach Bobby April said. "He had three things he needed to improve on: his get-off time, his plus-50 punting, and his consistency. It was something that we think he's got to get better at prior to that game. Certainly that game did not show that he's achieved or conquered the three areas we need him to conquer. We'll see if that improves as time goes."

And if not, Henry will face competition.

"This is how this game is," April admitted. "Last week we were singing his praises and then this week we're looking to find solutions for a new guy. I mean you are [always on the look out for competition but] I'm not right now. That's just the way the game goes. You better do good or the posse is after you. To answer your question, and I've said it before, everybody is on a performance based deal. If your performance is not up there's always a probability that you can be replaced. There's a lot of people that need to be replaced for job performance. Don't mean to be Clint Eastwood, just joking. Just joking."