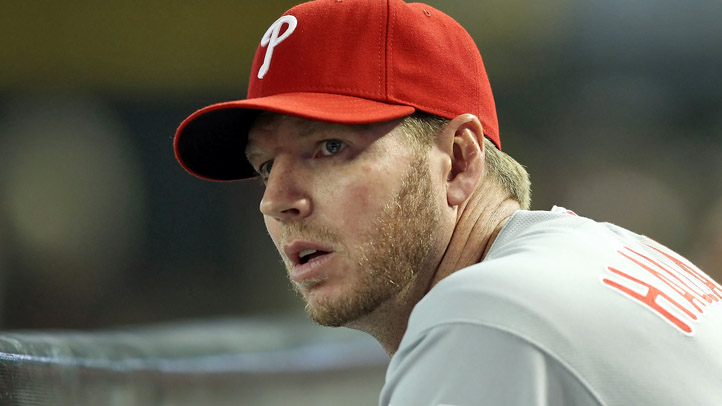 Here at Philthy Stuff we'll be taking a look at the 2013 Phillies and what we can expect from each and every player in the upcoming season as we head towards Spring Training. Next up, Roy Halladay.

On Monday, we talked about how crucial Chase Utley is, how he's the most important member of the offense next season, and how the team's success will be heavily dependent on his ability to stay on the field and produce. And for that reason, today we talk about Roy Halladay.
Like Utley, Roy Halladay's health and durability in 2013 will greatly impact the team's overall success. Following a disappointing 2012 campaign in which he went 11-8 with a 4.49 ERA in 156 innings thanks to a shoulder injury, Halladay needs to bounce back if the Phillies want to avoid missing the playoffs for the second straight season.

After dominating the National League since he came to the Phillies in 2010 (40-16, 2.40 ERA, 439 Ks, 65 BB in 484 innings), Doc looked downright mortal in 2012. His velocity was down, his location was off, and he just couldn't get the job done on the field. Much of that can be chalked up to the injury that sidelined him in the middle of the season, but the more skeptical fans (myself included) can't help but think that he may have also fell prey to being a 35-year-old pitcher with a lot of miles on his shoulder.

There is no way of knowing about whether or not Halladay will return to his dominating form next season until he starts dialing it up in Spring Training, but it goes without saying that he needs to be able to give the Phillies quality innings if they want to compete in the division.

With the Washington Nationals looking like the favorites in the division and the Atlanta Braves not going away, the Phillies will need all the help they can get. That starts with the rotation that is now heavily reliant on Kyle Kendrick and John Lannan, which leaves Cliff Lee and Cole Hamels as the only known quantities in the entire bunch.

I'd like to tell you all that you can expect vintage Doc in 2013, and that he'll give the Phillies 240 innings of 2.80 ERA baseball, but I can't. But maybe Bill James can, and he projected Doc to toss 230 innings in 2013, with 7.40 K/9 and an ERA of 3.21. Not bad, at all. And given the current state of things, we'd take that performance in a heartbeat, even if the potential of a world-dominating performance awaits us behind door number two.

But that's just a projection, and James is guessing as much as anyone else. Ultimately, it comes down to whether or not Roy is healthy and whether he can stave off the effects of being a 36-year-old starting pitcher who averaged over 200 innings a season since 2002. If he can do that, then the Phillies figure to be in decent shape in 2013. If he can't? Well, then there is always next season.