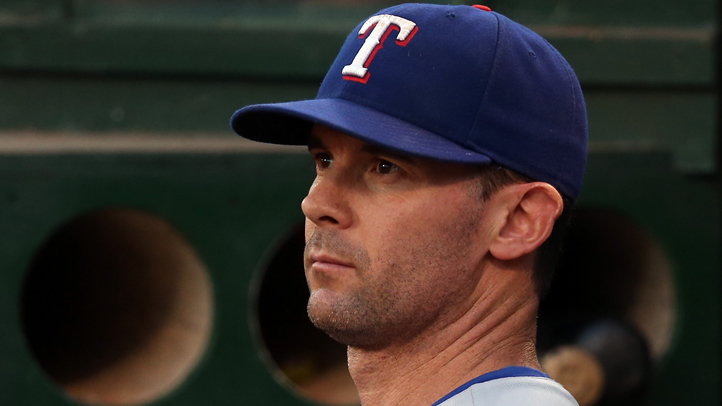 Here at Philthy Stuff we'll be taking a look at the 2013 Phillies and what we can expect from each and every player in the upcoming season as we head towards Spring Training. Next up, Michael Young.
There will be no shortage of interesting storylines in Philadelphia this season, including that of new Phillie Michael Young's, who is donning another team's uniform for the first time in his 13-year career after being acquired from the Texas Rangers.
After refusing to waive his no-trade clause over the last few years, the veteran finally caved when the Rangers traded him to the Phillies for a pair of relievers in December. Now, with a new team and one year away from free agency, Young has plenty to prove as he aims to help the Phillies return to the postseason.
The right-handed hitting infielder is expected to be the team's everyday third baseman in 2013, but will also be called upon to occasionally spell Chase Utley and Ryan Howard when they need to have a day off. While his actual defensive ability has been called into question in the past, his versatility and ability to play multiple positions should prove to be somewhat valuable for the Phillies in 2013.
His real strength, however, is his bat. Or, at least the Phillies hope so. Twice he led the American League in hits, once in 2005 (221) and again in 2011 (213), and figures to be an upgrade over Placido Polanco and Kevin Frandsen. He has a career line of .301/.347/.444, so he is no stranger to the batter's box, but his .682 OPS in 2012 (.312 OBP, 8 HR) have given some doubts about whether or not he will add much to the offense.
To boot, he isn't doing much to help the team get younger. At 36, he'll be the team's oldest starting position player. The good news is that he is only under contract for one year, so if he fails to perform, that mistake will be short lived.
The good news about this is that we can reasonably expect Young to bounce back from an uncharacteristically bad season. His .682 OPS was the lowest of his entire career, and it was the first time since 2007 that he ended the season with a single digit home run total. Evan at age 36, it's not a foregone conclusion that he'll continue to trend downwards. In fact, stat guru Bill James projects Young to have a .294/.343/.416 line, with 12 homers and 79 RBIs in 153 games. It's not going to turn any heads, but it's nothing if not steady production.
Ultimately, Young is a solid enough hitter who should provide solid enough offense in the middle of the lineup, and defense that will make you long for Polanco. He's not going to turn the Phillies into an offensive juggernaut, but with a lot of question marks surrounding the offense coming into this season, all he needs to be is consistent.