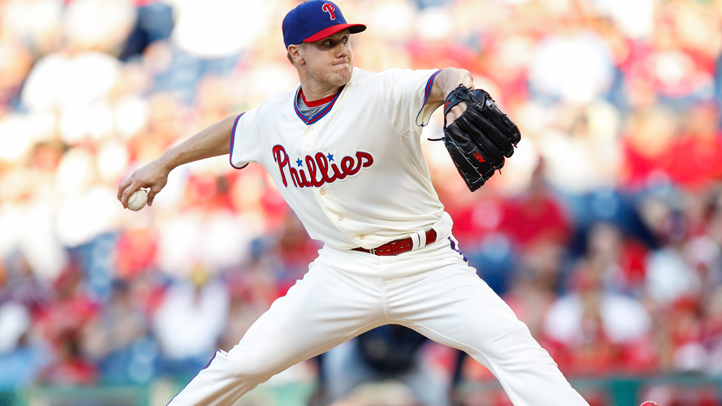 Here at Philthy Stuff we'll be taking a look at the 2013 Phillies and what we can expect from each and every player in the upcoming season as we head towards Spring Training. Next up, Jonathan Papelbon.

For a lot of reasons, 2012 will go down in the history books as one of the most un-enjoyable Phillies seasons of the last 50 or so years. Even though they finished the season with an 81-81 record, which was something of an impressive feat considering the state of the team, it was ultimately a very, very unsatisfying year.

That's not to say that there wasn't bright spots, because there was. And relief pitcher Jonathan Papelbon was one of the them. The closing pitcher, who was signed as a free agent before the season (a contract which, just last week, ESPN ranked as one of the worst in the game), was one of the few players who could call his season a success. In 70 innings over 70 games with the Phillies, Papelbon had a 2.44 ERA, 92 strikeouts, and 38 saves. It was his best single season since 2009, and the best performance by a Phillies closer since Brad Lidge was perfect in 2008.

While he could be frustrating, mostly due to the fact that he took so much time in between pitches, Papelbon was a rock at the end of a bullpen that had it's share of issues. Even if he is getting paid way too much money ($13 million is a lot of dough for a reliever), he was one of the best closers in the game, and one of the few sure things on the team.

And in 2013, you can expect him to provide that same kind of performance. He's been the model of consistency over the course of his career, and there is no reason to think that he won't continue to be a very valuable relief pitcher. He'll be 32-years-old next season, and still has plenty left in the tank.

As far as what to expect from the right-hander, Bill James projects him to have a 2.51 ERA and 41 saves in 68 innings of work, with a 10.72 K/9. You can't ask for much more than that out of a closing pitcher, especially with a bullpen that consists of solid veterans and young arms that could make for one of the best relief corps in the game.

And even though no players are ever really "sure things," Papelbon is probably as close as you can get. The only question, now, is whether or not he'll have enough leads to protect.