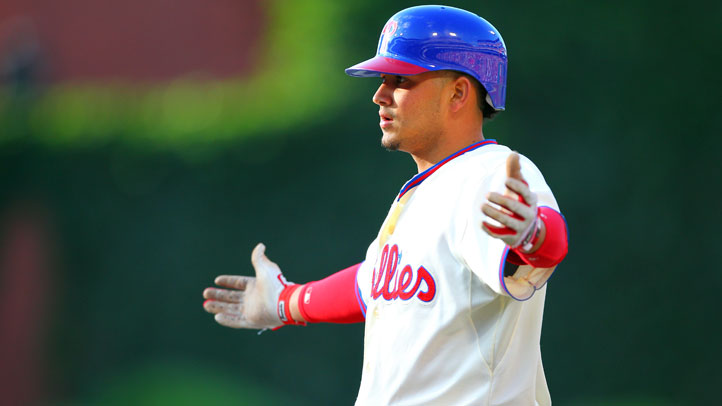 Here at Philthy Stuff we'll be taking a look at the 2013 Phillies and what we can expect from each and every player in the upcoming season as we head towards Spring Training. Next up, Freddy Galvis.
Of all the things that happened to the Phillies in 2012, most of them were disappointing or otherwise not worth talking about: Missing the playoffs for the first time since 2006, Roy Halladay looking human, the Washington Nationals emerging as the class of the division, and so on. One of the few things that was worth talking about, however, was the emergence of infielder Freddy Galvis, who stepped up in place of the injured Chase Utley.
Galvis, who was known more for his reputation as a sterling defensive shortstop, was one of the best position prospects in the Phillies farm system, despite the fact that he didn't have much of a bat. Although he did have his best year at the dish in 2011, when he had a .278/.324/.392 line in 137 games between AA and AAA, that doesn't necessarily inspire confidence at the big league level, especially when he's replacing one of the best hitting second baseman in the league.
Predictably, Galvis did not disappoint, as he provided spectacular defense (more on that in a moment), and very little offense. He didn't get his first hit until the fourth game of the season, and even though he showed flashes of offensive ability, he's a slap hitter who doesn't have great plate discipline, and that's about all you can expect out of him.
But that defense! What was most impressive about young Freddy was that he made a seamless transition to second base despite coming up as a shortstop. He took to the position immediately, and was making difficult plays seem routine by the third week of Spring Training. By the time the regular season rolled around, it looked as if he'd been playing it his entire life. He has great range, and a strong arm, and the kind of instincts that you want out of a great defender.
Unfortunately, his 2012 season was cut short due to a back injury, just shortly before he was suspended 50 games for testing positive for PEDs.
But what of Galvis in 2013? His role this season is up in the air, as there appears to be no real use for him on the big club. Chase Utley figures to be ready for Opening Day, Jimmy Rollins isn't going anywhere, and there is a glut of third baseman (including Michael Young, who can at least provide some offense) that would prevent him from getting a shot at the hot corner.
More likely, Galvis is going to start the season in the minor leagues, and it wouldn't surprise me if he got reps at second, third and shortstop, as a way to make him as versatile as possible in case he needs to get called up due to injury.
So while I don't expect Galvis to figure into the big club much this season, it is worth noting that Bill James projects him to have a .245/.281/.355 line, with seven homers over 142 games. Aside from the playing time part of that, everything else seems to add up.
The good news for Galvis is that, at 23, he'll have plenty of time to work on his offense as he tries to earn a full time role on the Phillies.