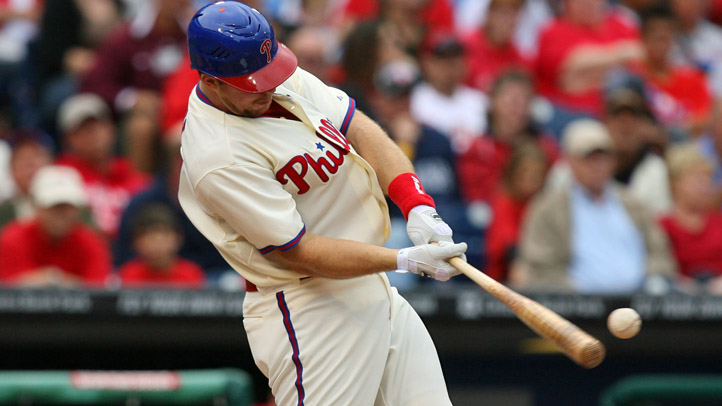 Here at Philthy Stuff we'll be taking a look at the 2013 Phillies and what we can expect from each and every player in the upcoming season as we head towards Spring Training. Next up, Erik Kratz.

While most of the Phillies suffered from down seasons related to old age, injuries, or just plain old bad luck, there was one such player who made the most of a mostly forgettable 2012 season: Erik Kratz.

The catcher, whose career can be summed up with the word "journeyman," made a splash last season, after injuries to both Carlos Ruiz and Brian Schneider resulted in the 32-year-old getting a decent amount of playing time. He didn't squander the opportunity to play on a daily basis, and ended the season with a .248/.306/.504 line, with nine homers and 26 RBIs in 50 games. His performance wasn't enough to buoy the offense, but for a career minor league backup catcher suddenly thrust into the lineup, he certainly opened up more than a few eyes.

Kratz's performance marks the second time since 2006 that the Phillies found themselves benefiting from the performance of a journeyman catcher, when Chris Coste made his debut as a 33-year-old rookie en route to what would become a pleasant, albeit short, Major League career.

The Phillies can only hope that Kratz, who will be 33 during the middle of the 2013 season, can channel his inner-Coste and continue to be a productive player in the box and behind the plate. Especially since he will be leaned on a bit more during the first month of the season as he fills in for starting catcher Carlos Ruiz, who will be missing the first 25 games thanks to a suspension related to PEDs.

But thanks to Kratz, Chooch's absence might not be as noticeable, especially if he can hit with the same type of power that he displayed last season. Although the odds are against him to repeat that performance, backup catchers that can provide a solid bat on a day-to-day basis are a rare commodity, so the Phillies are wise to let him take over Ruiz's spot until he returns.

Despite his flash-in-the-pan 2012 season, stat guru Bill James expects Kratz to provide similar numbers in 2013, as he projects him to have a line of .255/.318/.460, with 13 homers in 74 games. It's not going to make him an All Star, but that's about as much as you can hope for from a 33-year-old backup catcher – especially one that didn't see his first MLB action until 2010.