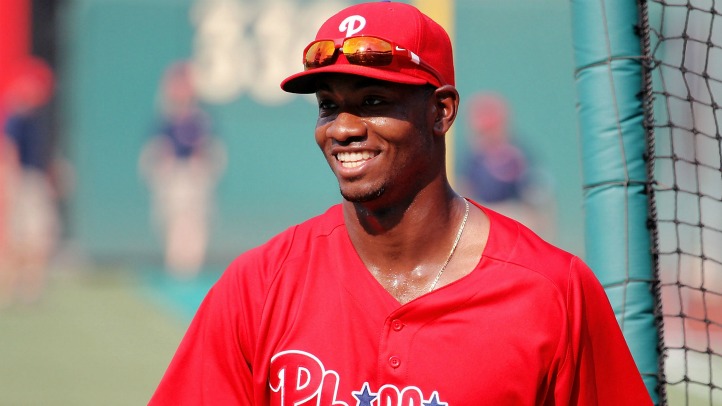 Here at Philthy Stuff we'll be taking a look at the 2013 Phillies and what we can expect from each and every player in the upcoming season as we head towards Spring Training. Next up, Domonic Brown.

With possibly the exceptions of free-agents to be Roy Halladay and Chase Utley, the player with the most to prove in 2013 figures to be Domonic Brown. The outfielder should finally get his chance to prove that he can live up to the hype created when he was named the fourth best prospect in baseball.

The 25-year-old, who was once considered "unmoveable" even as the Phillies traded for Cliff Lee, Roy Halladay, and Roy Oswalt, has not lived up to expectations in his short Major League career, though through no fault of his own. Since making his debut in 2010, he's been shuffled back and forth between the bench and the minor leagues, thanks mostly to a broken hand and the team's acquisition of Hunter Pence in the summer of 2011. In three seasons with the Phils, he's appeared in all of 162 games, where he's put together a line of .236/.315/.388, with 13 homers and 62 RBIs.

While some (including management) are ready to write-off Domonic Brown, the Phillies have little reason not to give him the keys to an everyday starting job. With an outfield that isn't heavy on talent, Brown figures to be the best hitter of a group that includes John Mayberry, Laynce Nix, Delmon Young, Ben Revere, and Darin Ruf. That being said, Ruben Amaro and company have long stated that Brown will not be given a starting job unless he earns it.

I suppose that's fair, because Brown hasn't made the most of (what little) opportunities he's had so far. It's more of an indictment on the management of the team more-so than Brown's talent, but the fact remains that he cannot be expected to earn a job based on his former top-prospect status.

That's not to say that Brown still can't be an effective hitter, because it's clear that he can. He's shown the ability to hit for power, along with a keen eye at the dish, so it's really just a matter of him getting enough playing time to actually put his skills on display.

Should he get that opportunity, Bill James projects him to make the most of it, with a .274/.347/.445 line with 17 homers and 80 RBIs in 148 games. Can Brown do it? He certainly has the talent to turn 2013 into his breakout season, so now it's just a matter of whether or not he can finally put it all together.