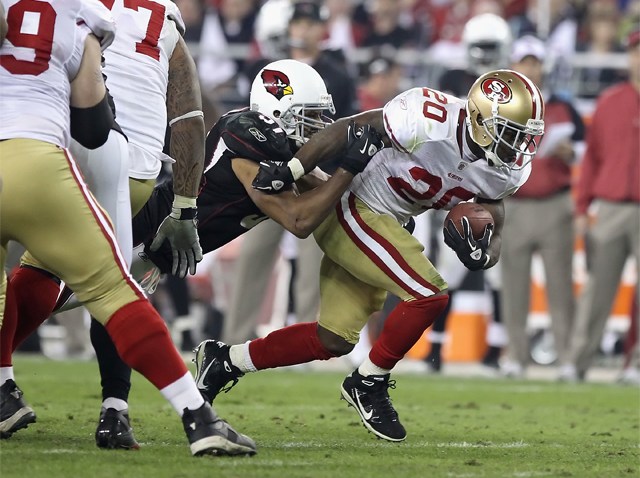 Lost in the offseason drama at the quarterback position was the departure of another all-time Eagles great: running back Brian Westbrook.
As the season has gone on it has been easy to forget about Westbrook's absence. LeSean McCoy has been better than pretty much anyone expected, gaining 779 yards on the ground and another 448 in the air to go with 7 touchdowns through just 11 games.
Plus, Westbrook has been practically invisible since signing with San Francisco. At least, until last night, when the former #36 (now #20) rushed 23 times for 136 yards, including a shifty 8-yard touchdown run, in relief of an injured Frank Gore to help the 49ers beat the Cardinals in Monday Night Football.
That was the most carries and yards in one game Westbrook has had since 2008, and ironically the 31-year-old running back known for his precise pass routes didn't register a single reception.
"I just kind of bided my time, tried to stay fresh, tried to stay focused," Westbrook said after the game, "and when I got my opportunity, make the most of it."
Going forward, Westbrook will have a chance to show last night was no fluke. A broken right hip for Gore means the 49ers playoff hopes fall on Westbrook. He must carry the load of the team's power running attack over the last five games, and continue to prove to the NFL that he's still got some gas left in his tank.
Clearly he does. And while no one here in Philly is clamoring to have him back, hopefully fans will root the Eagles long-time star on from afar.