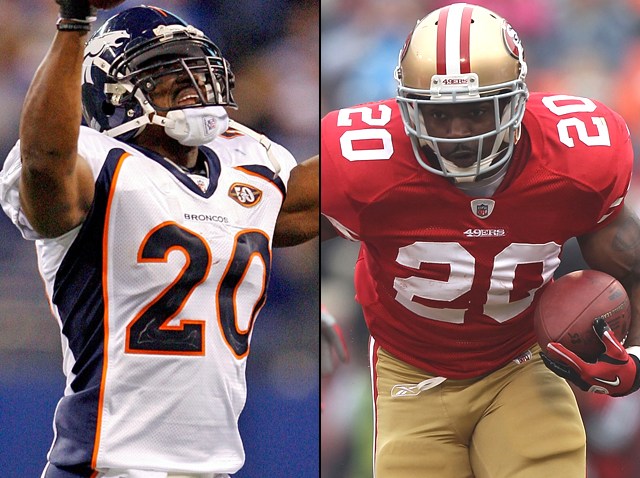 Two Eagles legends possibly played their last NFL games on Sunday and neither was wearing the Eagles green they will forever be remembered for.
Brian Dawkins and Brian Westbrook both wrapped up mostly forgettable seasons spent out west by showing some of the flashes of brilliance they had once showcased in Philly.
Westbrook rushed for 79 yards and two scores on 13 attempts and added a 14-yard catch as well in the 49ers final game. While Dawkins made seven tackles, racked up a sack and a forced fumble in the Broncos finale.
Could either player latch on for one more paycheck, maybe? But, with collective bargaining running out and the 2011 season in jeopardy, the window for these guys to continue their fading careers seems to be closing.
Dawkins, the player formerly known as Weapon X, looked rather pedestrian in his 15th season in the NFL (second in Denver). The 37-year-old played 11 games for a dreadful Denver team. He spent much of this season playing catch up in pass coverage and losing pop while tackling but still managed 66 tackles, two sacks, two forced fumbles and interception one year removed from making his eighth -- and likely final -- Pro Bowl in his first season in the Mile High City.
Westbrook was M.I.A. for the first three months of the season -- rushing just five times for 9 yards and no TDs through Week 11 -- causing many NFL fans to wonder if he was even still in the league. But, the 31-year-old had one last great game in him when he was forced into action for San Fran on Monday Night Football. With starting RB Frank Gore done for the year, B-West stepped in and rushed for 136 yards and a score.
In the end, B-West played 14 games for San Fran rushing 77 times for 340 yards and four TDs. He also added 16 grabs for 150 yards and another TD while becoming the only active player in the NFL with at least 40 rushing and 30 receiving TDs.
B-West showed some brilliance but since he is a running back on the wrong side of 30 who also has a history of concussions it would be really hard to see him playing again. But that doesn't mean the two-time Pro Bowler plans on hanging up his cleats. He told the San Francisco Examiner that he wants to play and contribute for some team next season -- not ruling the Niners out.
B-Dawk also didn't bring up the "R" word. He could get one final look by a team in need of a mentor for a younger safety but at 38, how much could potential suitors expect?
In any case there likely won't be any parades, ceremonies or ESPN specials about these guys' decisions to stay or go. Likely come next fall they just will or won't be a roster.
Hopefully both players know that it's time.
Unfortunately much like boxers, NFLers hold on for "one more season" far too often -- many times (like in both these cases) in foreign lands.
Hopefully, like so many greats on nearly every franchise in football both B-West and B-Dawk will be remembered no matter what for what they did in Eagles green rather than another color. Seriously, does anyone want to look back at Johnny Unitas in Charges teal or Joe Namath in Rams gold? What about Earl Campbell in Saints gold?
The good thing is that once both Westbrook and Dawkins call it quits the Eagles will likely do the right thing. The Birds honored Randall Cunningham and other Eagles greats recently by allowing them able to sign one-day contracts to officially walk away from the game bleeding Eagles green -- the color that B-Dawk and D-West will forever bleed in the minds of Philly's faithful.