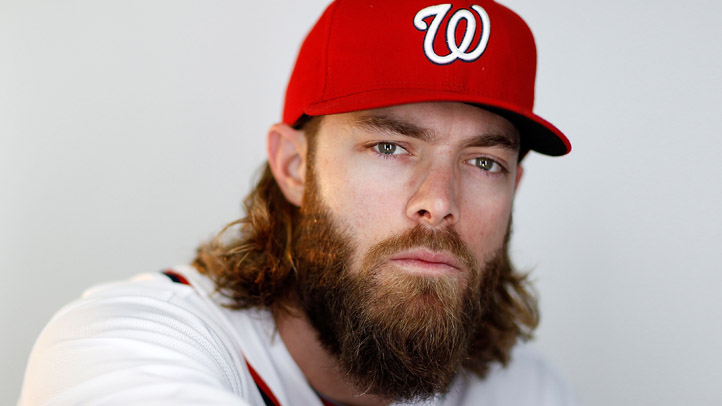 The feats of former Phillies outfielder are quickly making into a folk tale-like hero (worthy of that beard?) in his second season with the Nationals.
After an underwhelming first year in D.C., Werth has three homers, six RBI and five runs in 12 spring games. His latest blast was a mammoth homer that cleared just about everything at the Nationals' Space Coast (yes that's the stadium's real name) Stadium was Sunday in a 12-0 beating of the Mets.
I'll let the Washington Post pick it up from here:
Werth's home run today provided an exclamation point. In the first inning, with Zimmerman standing on second, Mets prospect Matt Harvey threw Werth a fastball on the inner third. Werth turned and blasted it over the fence … over the bleachers … over a small billboard … over everything.

"The hardest ball I've seen him hit since he's been here," Manager Davey Johnson said.

If Michael Morse cannot return from his strained lat in time for the season, Werth will likely hit cleanup for the Nationals. "That makes sense," Werth said. "If my swing is good, I can hit anywhere in the lineup. If my swing is not good, it doesn't really matter."
USA Today says a groundskeeper even let Werth know the ball hit his own truck in the player's parking lot:
"Can't win," Werth told reporters afterward, though noting he hadn't confirmed his stroke of bad luck, calling it, for now, "folklore."
Folklore for sure that was added to by a tweet from CSNWashington's Nationals reporter Mark Zuckerman:
Werth says several witnesses confirmed his HR hit his truck. "There was a smoldering crater in the hood." OK, that part may be overblown.
All this proves is that Werth not only looks like Paul Bunyan but he might be getting the same folklore hype just like his team. On that note, enough with "the Nats are going to win the NL East" stuff people. They should win one of these years but this year the Phillies will win the division -- again -- anything else is just a tall tale.