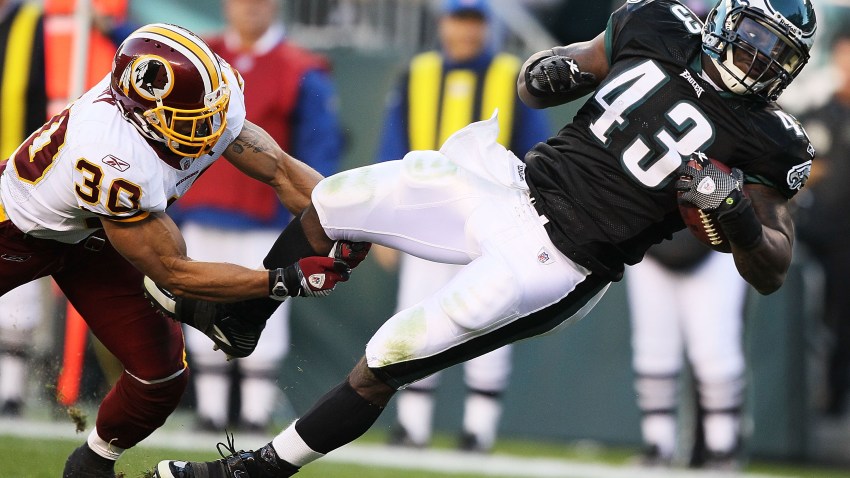 The Eagles released one of their former Pro Bowlers Thursday night after he failed a physical.
FB Leonard Weaver, who made the 2009 Pro Bowl, was "terminated" due to a failed physical the Eagles said.
Weaver suffered a gruesome knee injury in the Eagles Week 1 loss to the Packers last season.
Apparently the 28-year-old's knee just hasn't gotten better to the point where he could play.
"To see a guy like Leonard Weaver play in the Pro Bowl one year and suffer a devastating injury in the first game of the following year is especially tough," general manager Howie Roseman said.
Despite the kind words the Birds left Weaver with a bitter taste in his mouth. The fullback turned to twitter to vent about how he says the organization handled his release.
"The kicker behind that is that the organization didn't call me and tell me. I had to find out by a reporter," Weaver tweeted.
Weaver wasn't the only player shown the door by the Birds Thursday.
DT Jeff Owens and WR Jeremy Williams were both waived after failing physicals. And DT Jeremy Clark and CB Gerard Lawson were released.
"I want to thank all of these players for their hard work and efforts during the course of their time in Philadelphia," said Roseman. "I have a tremendous amount of respect for all of our players who battle through all of the highs and lows of playing in the National Football League… I wish all five men nothing but the best."
The Eagles also traded away backup QB Kevin Kolb to the Cardinals Thursday. But they also welcomed a few players.
They got CB Dominique Rodgers-Cromartie in the Kolb trade. They signed veteran DE Jason Babin who spent parts of the 2009 season in Philly. They signed seventh-round draft pick LB Greg Lloyd to a four-year contract. And they inked rookie free agent WR Gerald Jones.