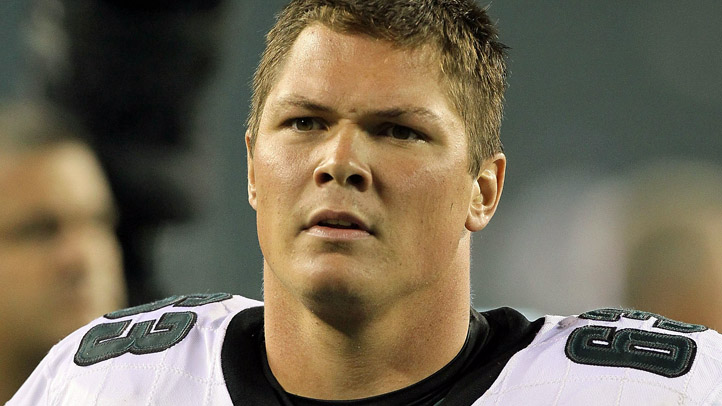 The Eagles No. 1 pick in this year's draft won't be in the starting lineup as the Eagles begin the 2011 season, according to reports.
"Rookie Danny Watkins won't start on Sunday," tweeted NBC Philadelphia sports producer Colin Macaulay Wednesday. "Kyle DeVan took all the snaps at right guard today."
Danny Watkins, the 6-foot-3, 310-pound former firefighter, was demoted from his starting right guard spot as newly-acquired ex-Colt Kyle DeVan took reps with the first team at practice Wednesday.
DeVan was just signed on Sunday after being released by Indianapolis where he was coached by new Eagles offensive line coach Howard Mudd.
The 6-foot-2, 306-pound lineman started 21 regulars season games for the Colts the last two seasons, protecting Pro Bowler Peyton Manning.
Despite the move, the Eagles made nothing official and Watkins remained as the starter on the unofficial depth chart on the team's website.
When asked if Watkins would start head coach Andy Reid was non-committal:
"I'm not going to get into all the personnel things here. We'll see."
Watkins sounded defeated but kept positive as he spoke to reporters Wednesday.
"Nothing's guaranteed here," Watkins said. "I hold myself to a high standard. And I wanna be able to do my best and be a critical part of the team here."
Philly.com's Birds' Eye View broke down some of the reasons the demotion isn't a huge surprise:
Since he was drafted in the first round of April's draft, Watkins has been penciled in as the starting right guard. He showed up late for training camp after negotiations for his contract lingered. He started once he arrived, but looked lost at various points in the first three preseason games.

He was also the only starter to play in the preseason finale against the Jets. Obviously, he didn't play well enough to hold onto his job.

"Sometimes it's good to take one small step back to take a big step forward," Reid said. Watkins "will be out there practicing. We got Kyle, who also can play, in that spot. We're comfortable with either direction that we go."
With Watkins likely out and DeVan in, Mudd's offensive line unit will now only start one rookie -- fifth-round pick C Jason Kelce. Eagles' veteran tackles Jason Peters and Todd Herremans along with newly-acquired veteran G Evan Mathis round out the line charged with keeping QB Michael Vick protected.