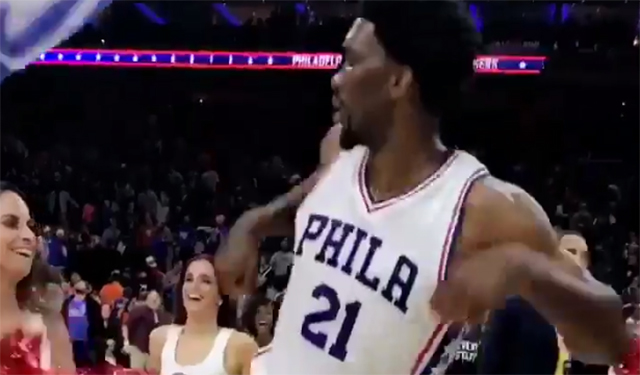 Go ahead, big man.
Dance the night away.
T.J. McConnell gave Joel Embiid all the reason to whip out the moves with the cheerleaders after the underdog point guard hit a buzzer-beating jumper to give the Sixers a 98-97 win over the Knicks on Wednesday night (see story/video).
And they celebrated.
Embiid thoroughly enjoyed himself, and why not? The Sixers are winning. They've come out victorious in four of their last five games, and the infectious 7-foot-2 big man is the biggest reason why, as he dropped 21 points and a career-high 14 boards this time out.
So he danced.
Here's the video, courtesy of the great Sixers in-arena host Christian Crosby.
#NBAVote Joel Embiid pic.twitter.com/bNzIpcAub7 — Christian Crosby (@ChristianCrosby) January 12, 2017
Copyright CSNPhily