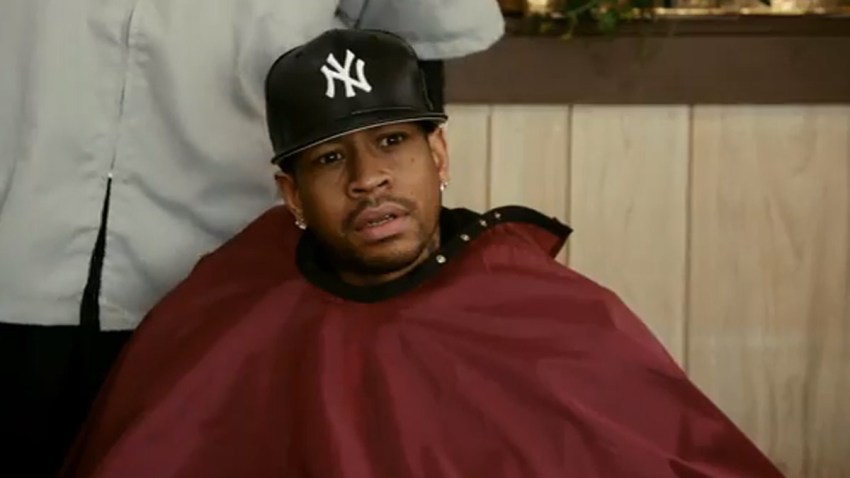 He's a Philly sports legend who revolutionized the game of basketball. But even A.I. isn't above making fun of himself every now and then. Fresh off his jersey retirement ceremony, Allen Iverson parodied his infamous "practice" rant in a new commercial for Reebok.
The short ad features former NBA stars Shaquille O'Neal and Shawn Kemp as well as comedian Lil' Duval and hip hop artist French Montana playing the dozens and talking fashion inside a barbershop. The highlight of the ad comes at the end however when Iverson turns around in his barber chair with his now recognizable look of utter bewilderment.
"Pants?" he asks. "We talkin' bout pants?! Not the game but pants?! How silly is that!"
The funny quip of course refers to Iverson's memorable press conference back in 2002.
After the Sixers were eliminated by the Boston Celtics in the first round of the NBA playoffs, Iverson took to the microphone to explain that he was more of a gamer than a practice player.
"I mean listen, we're sitting here talking about practice," Iverson said. "Not a game, not a game, not a game, but we're talking about practice."
Iverson's monologue, for better or worse, earned a permanent spot in the history of most memorable sports rants. Along with his crossover, stepping over Tyronn Lue in the NBA Finals, and cornrows, it's also one of the first things people think of whenever A.I.'s name is mentioned.
Yet while Iverson has since moved on from his "practice" speech, it's nice to see he can still find some humor in it. Watch the new Reebok ad and the famous rant in the videos embedded below.