Snowboarder Shaun White capped a banner day for Team U.S.A. with a McTwist -- easily defending his Olympic title in the men's halfpipe competition Wednesday night and earning the Americans their third gold medal in one day.
Even though White had already scored high enough to earn his second Olympic gold medal, he punctuated his crowd-pleasing performance with his signature move, the "Double McTwist 1260."
"I wanted a victory lap that would be remembered," White said, NBCOlympics reported. "I achieved that."
Downhill skiing star Lindsey Vonn kicked off the dramatic series of Day 6 events by overcoming an ailing shin to beat her rivals, with teammate Julia Mancuso taking second place. Later, Shani Davis defended his title as the best men's 1000-meter Olympic speedskater, striking gold in an event where another American, Chad Hedrick, took bronze. Scotty Lago, yet another American, earned a bronze during the men's halfpipe.
By the end of the day, Team U.S.A. overtook the leader board among nations at five gold medals to Germany's three.
Vonn's race featured several crashes, including a wipeout by Sweden's Anja Paerson. The American shrugged off her injury to speed down Franz's Downhill in 1 minute, 44.19 seconds. Mancuso finished 0.56 seconds behind.
"This is everything I've wanted and hoped for," Vonn said, her voice choked with emotion, after her win. "It was not the perfect run by any means. But I attacked and made it down. It's awesome."
Sports
In partnership with NBC Sports Philadelphia
"She had the weight of the world on her," said Vonn's husband and chief adviser, a former U.S. skier who also serves as a personal coach. "People were basically hanging the medal around her neck before the start. That's incredibly hard to deal with."
The Vonns hugged for 30 seconds at the end of the winning run. "It was one of the most clutch runs I've ever seen," Thomas Vonn said.
It was a promising start to what was a big day for America.
Speedskater Davis won a gold medal in his specialty, the 1,000 meter event with a time of 1:08.94, marking the second Olympics in a row he took the top prize in the event. He won at the 2006 Games and holds the world record. Chad Hedrick of the U.S. won the bronze in 1:09.32.
"All the hard work, determination and dedication," Davis told NBC's Andrea Kremer during a post-race interview, alluding to how he earned the victory. "I was really happy to win here. One of my good friends passed away recently so I was emotional before the race."
Mo Tae-bum of South Korea took the silver, coming in 18-hundreths of a second behind Davis.
Davis is now the first person in history to win multiple gold medals in the 1000m.
"It means a lot," Davis told Kremer.
Despite whiffing in the medal hunt on Tuesday, the U.S. has won 14 so far. The Americans won only six medals at the 1988 Winter Games in Calgary.
Like Davis, White won gold at the Turin Olympics. Known as the Flying Tomato because of his red hair, White is one of the most recognizable athletes at the Vancouver Games even though the halfpipe is in only its fourth Olympics as part of the official program.
White had been working on the "Double McTwist 1260," a move that requires him to pack 3 1/2 spins inside of two head-over-heels flips but did not need to try it to take the lead with a score of 46.8 on his first run.
Instead, he performed the trick for fans in a victory lap, scoring a near perfect 48.4.
Speedskater Apolo Anton Ohno also competed for the Americans Wednesday, advancing to Saturday's finals in the men's 1,000m and 5,000 relay.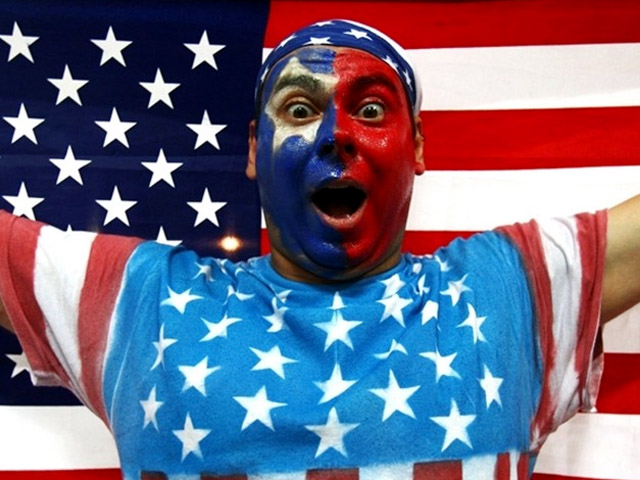 The Vancouver Winter Games are here and Team USA is rocking…
Check out our full coverage