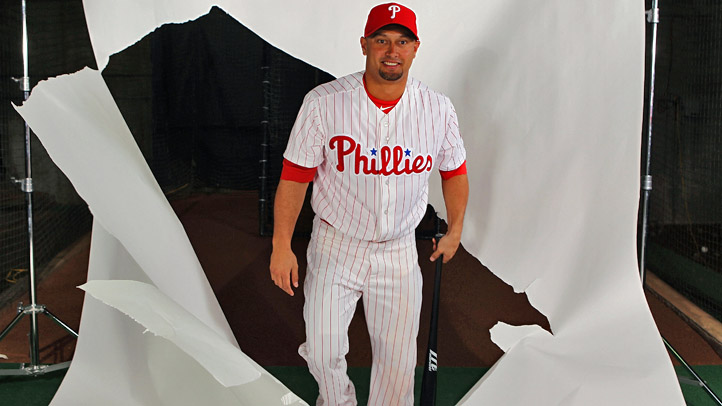 The Phillies will be almost whole again as they kickoff a weekend series in Pittsburgh Friday night. When Shane Victorino was not in the Reading Phillies' lineup Thursday morning, it was speculated and later reported that he would likely be activated from the disabled list on Friday and join the team on the last leg of their road trip this weekend.
After being plagued by early season injuries, Joe Blanton and Brad Lidge remain the only staff regulars left on the disabled list.
With Victorino back in center field, the club has to decide who goes and who stays on the 25-man roster, and the decision won't be easy.
The Candidates:
Domonic Brown
John Mayberry, Jr.
Ross Gload
Michael Martinez
Ben Francisco
It's probably safe to assume that Brown and Mayberry will remain with the team upon Victorino's return. Ruben Amaro, Jr. and Charlie Manuel were heavily criticized for the use of top prospect Brown in 2010 heading into the post season, and after a long Triple-A tune-up following his hand surgery, Amaro was leery to bring him back up to the majors stating that "he wasn't ready."
Since becoming a (mostly) regular fixture in the outfield, Brown has batted.324 OBP/.368 OBP/.898 OPS in 11 games. Chase Utley is .194/.324/.647 over nine games. A small sample size, yes, but Dom's been impressive nonetheless.
Mayberry is no stranger to the big club, having played 95 games since his debut with the team in 2009. So far this season he is batting a less impressive .231/.316/.682, but provides some hard to come by right-handed power off the bench. Keeping both Brown and Mayberry in the wings also allows for an easier platoon with Ben Francisco -- who has options but it would be hard to see him being sent down -- and Raul Ibanez throughout the season.
Ross Gload is a conundrum. He has a tear in his hip that has Charlie's hands tied. Putting him on the 15, 30, or even 60-day DL won't help anything. Surgery will end his season. But he's the best pinch hitter the Phillies have on their bench. Kyle Kendrick even pinch ran for him on Tuesday night just because the team doesn't know how far they can push Gload without injuring him further. However, he is unlikely to cover first base should Ryan Howard need a day off if he can't run the bases without worrying the coaching staff.
At the end of the day Gload's a lefty bat, batting .275/.275/.550 in 40 plate appearances. Perhaps deactivating him and getting him the surgery he needs makes sense if he's going to be walking on eggshells the entire season anyway.
Michael Martinez provides a different scenario should the Phillies choose to cut him on Friday. Being a Rule-5 Draft pick, he isn't eligible to be sent to the minors. The Phils would have to offer him back to the Nationals along with $25,000. 2010's Rule-5 experiment, David Herndon, hung on all season but was optioned to Lehigh Valley during the ongoing game of bullpen musical chairs this year.
Martinez seemed like a lock to make the big club out of spring training as his versatility gave the Phillies some much needed depth in the infield and outfield. If he fails to make the cut this time around, however, Wilson Valdez would be left as the sole backup infielder (and outfielder, and catcher, and pitcher, and Phanatic...).
Hitting a measly .184/.212/.416, Martinez stands to be the opposite of Gload -- he can bat, he can field, and he ca run. Would he be merely a pawn? Just a run-of-the-mill pinch hitter for a pitcher when the game isn't on the line? I can't imagine anyone finds him terribly vital at the moment.
If I were a betting girl, I would guess that Martinez will be wearing a Nationals uniform as the Phillies take the field at PNC Park Friday evening, but crazier things have happened.