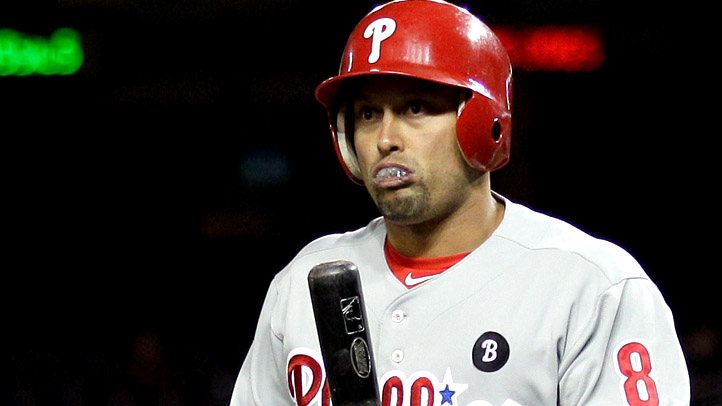 The campaign is on to get Shane Victorino on the N.L. All-Star team. But right as the Final Vote movement is gaining steam the Flyin' Hawaiian could be grounded.
Victorino left the Phillies Tuesday and returned to Philadelphia to have his injured right thumb examined by a hand specialist, assistant general manager Scott Proefrock told the AP.
The diagnosis? A grade-one -- a.k.a. least severe -- sprain, Proefrock said.
The injury -- caused by an embarrassing fall to the turf at the Rogers Centre in Toronto Sunday -- forced Victorino out of action Monday and Tuesday nights.
Victorino is expected to rejoin the Phightins Wednesday in Miami, according to MLB.com.
But it could be longer before he rejoins the lineup.
"He can't grip the ball, and it's hard to grip the bat," manager Charlie Manuel said. "Will he miss some time? Probably. I don't think it's going to be a whole lot, but we'll see."
So how's he feeling?
"He's feeling better," Proefrock said. "We will make a decision on what our course of action will be with him in the next 48 hours."
Victorino, 30, is batting .303 with a .376 on-base percentage so far this season. He has filled the stat sheet with 53 runs, 34 RBIs, 14 doubles, nine triples, nine homers and 13 steals in 68 games to this point.
The likely candidate to man center field in Victorino's absence is John Mayberry, Jr. The lanky right-handed hitter was recalled from Triple-A to take Vance Worley's space on the roster.