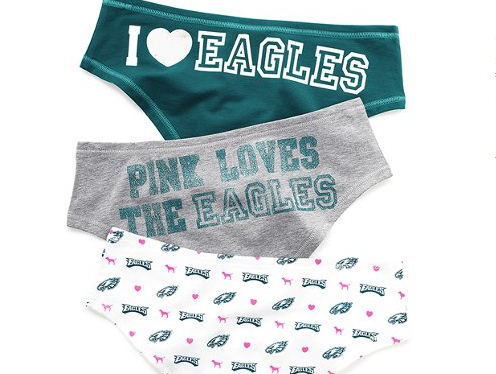 Female Philadelphia fan do love to accessorize, but it usually involves batteries, snowballs, bottles, and fisticuffs.
So why Victoria's Secret thinks the Eagles are a rhinestone-speckled fan base escapes us -- after all, this is a town that booed Sarah Palin at a hockey game. Philadelphia is not falling for anyone's Mall of America-brand wiles.
But that's what lady Philly fans are offered up by the lingerie giant, who've released a new line of Iggles-wear in conjunction with the NFL. And it is everything we always knew we never wanted: a logo made from sequins, sweatpants covered in rhinestones, a hoodie bedazzled in...more rhinestones, a t-shirt covered in "studded embellishments."
In other words, it's right up Hank Baskett's wife's alley.
But have they met Actual Eagles Fans? It makes sense only if the little sparkly squares are removable for hurling at opposing fans or down onto the field.
It also brings up a point: short of sports finally figuring out that they can just cut regular team-wear for a woman's body, what do women want?
I'd want a shirt with Brandon Graham's face on, Notorious B.I.G. style. I'd want a top made of detachable batteries. I'd want a sweatshirt with a ripcord that lets out a very loud "BOOOOO," as if I was a walking audible Hallmark card of hatred. I'd want a dress spun from the blood of the Dallas Cowboys.
Female Eagles fans probably won't get those things. But that certainly doesn't mean any of them are about to roll around on Linda Evans' closet floor and head off for The Linc, either. Gross.